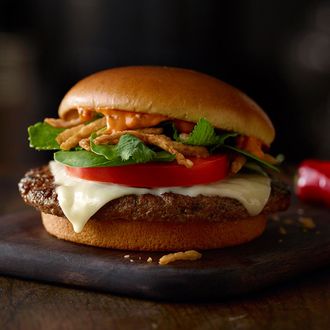 "I usually avoid desperation, but in this case, I made an exception."
Photo: McDonald's
Even as the paper's cheap-eats guinea pig, Washington Post critic Tim Carman has taken one for the team by reviewing McDonald's new kale-and-sriracha Mac Sauce burger. The item is the latest addition to the chain's constantly morphing fancy-sandwich line — the gift that just keeps on giving, if you like pointing and laughing at McDonald's. Carman's takedown, titled "McDonald's New Sriracha-and-Kale Burger Is an Aging Hipster's Cry for Help," contains all the savagery you'd expect, given it's essentially the Pete Wells–Guy's American Kitchen version of a fast-food review. Before he even ate one, Carman assumed he'd dislike the burger, which he calls "the fast-food equivalent of watching your Dad sport rompers and pledge his undying love for Drake." (Hey, at least you'd get a few laughs out of that.)
It'd be a disservice to Carman, though, to pretend his review isn't nuanced. He finds all sorts of subtly different reasons McDonald's latest attempt to refresh the brand fails:
• It "smacks of desperation." Or if that's not clear enough, it "reeks of a corporate attempt to capitalize on two of the biggest food trends of the past decade (although far after each has peaked)."
• It's "kale-bait" for the cool kids. Carman grants that the sriracha wasn't half bad, but he remains baffled by the kale, which McDonald's said as recently as 2015 "will never" appear on its sandwiches. He suspects the motivation was to give Mickey D's "the air of a gastropub," since "millennials aren't going to volunteer their arteries to McDonald's without a little kale-bait."
• They couldn't even serve the damn thing correctly. First attempt, Carman got romaine instead of kale. (And started feeling "super out of luck if I planned to enjoy the nutritional benefits of this superfood.") On try No. 2, he ordered at a different store, which stuck "one lonely leaf of baby kale" on his Quarter Pounder. In his mind, that was enough to validate "whatever warped impulse drives one to seek out superfoods at a chain widely condemned as a contributing source to America's obesity epidemic," but you have to assume just barely.