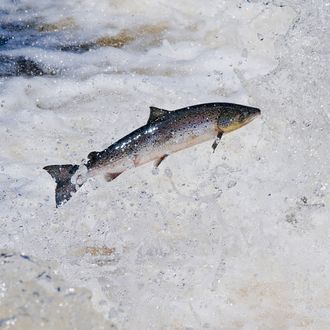 In some troubled waters.
Photo: Thomas Kitchin & Victoria Hurst/Getty Images
Washington state wildlife officials warn "thousands" of salmon are on the loose in the Pacific after the net at their farm broke and they made a Finding Nemo–style break for the open sea. Cooke Aquaculture says one of its farms in the San Juan Islands suffered a "structural failure" on Saturday, and an untold number of more than 300,000 fish got their first taste of freedom. The company is blaming the mishap on, of all things, the eclipse — arguing that the rare astronomical event caused "exceptionally high tides and currents." But experts say it's more likely the culprit was just faulty holding pens.
Their initial guess was maybe 4,000 to 5,000 fish had gone AWOL, but the company added it'll take time to count up exactly how many. The CBC reported yesterday that the company now admits the number missing could in fact be "much higher."
Either way, the situation is a serious debacle. Now that divers are down there assessing things, Cooke Aquaculture says it "appears that many fish are still contained within the nets." Crews are working to recover as many live salmon as "conditions permit," which sounds dire. The Washington Department of Fish & Wildlife notes that because the farm was full of Atlantic salmon, an invasive species, the escapees could mate with Chinook salmon (the native kind) or steal all their food. "We don't know" what the fallout will be, a concerned marine ecologist tells The Guardian. "It runs from something quite modest all the way to something very serious." Rather than hope for the best, wildlife officials put out a notice encouraging anglers to just go medieval on them ("We'd like to see as many of these escaped fish caught as possible").
Invasive or not, the fish don't mean nobody no harm, some experts argue, and couldn't inflict any if they tried anyways. "These things are kind of couch potatoes," an official with the NOAA explained to the Seattle Times, so the local sea life isn't exactly in danger. "Imagine a dairy cow getting lost out in the Serengeti" is the analogy he used — "It doesn't last very long."