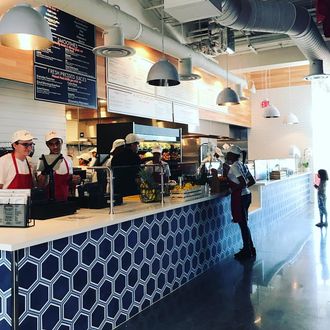 What Orlando Walmart shoppers can now retreat to.
Photo: Grown/Facebook
Walmart — your one-stop shop for Patti LaBelle pies, 9/11-themed Coke displays, and back-to-school rifles — is really trying to diversify its brand image, if the restaurant chain it's lured to a Florida store is any indication. A location in Orlando has opened a fully integrated outpost of Grown, a fast-food chainlet founded by former NBA player Ray Allen and his wife, Shannon, that sells "slow food for fast people."
Everything Grown makes is healthy, organic, "farm-to-fork," sourced locally when possible, and served in 100 percent compostable containers — a far cry from the sad Subway or McDonald's usually stuck near a Walmart's entrance. Grown's menu has smoothies, avocado toast, and housemade falafel; kids can get organic cereal or gluten-free French-toast sticks. The Walmart location — which is Grown's third — just opened, and a rep tells food blog Delish that "operating a grown inside of Walmart makes the store accessible to every family, regardless of their mean income, making the move a game-changer for consumers." (Grown officially stylizes its name with a lowercase g, Grub regrets to inform you.)
Oddly, Grown is already sort of a BFD. David Chang is on its Instagram page, and it cooked food for an event last year at the White House. What Walmart's up to (and whether people will buy into it) is anybody's guess, but one thing is clear, and that's that the company is pulling out all the stops right now. It's scared of the new Amazon–Whole Foods e-monster that became even more real today when Whole Foods' shareholders finally approved the merger, and is proactively taking bold steps, like today's other big Walmart news: that it agreed to sell groceries and other merchandise on Google's online shopping platform using Google's voice-activated assistant.
With Grown, Walmart probably sees a chance to tighten its grip on the organic market, which it wrested from Whole Foods a while ago when it surpassed the OG grocer in organic sales. Now, there's a brand-new place where the company threatens Whole Foods: Grown charges $4 for a hot black tea, $9 for cold-pressed orange juice, and $14 to $18 for each grain bowl. Walmart's everyday-low-price shoppers might see those prices, and just hightail it for the Patti LaBelle aisle.