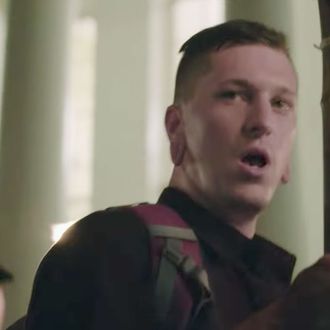 Ryan Roy, currently unemployed.
Photo: HBO/VICE
Uno Pizzeria has terminated the employment of Ryan Roy, one of the neo-Nazi participants in the Charlottesville, Virginia, rally, joining fellow angry white nationalist Cole White, who prior to marching was gainfully employed by a libertarian-leaning hot-dog chain in Berkeley.
Roy worked at an Uno location in South Burlington, Vermont. His undoing was the pretty conspicuous cameo he made at the chilling start of Vice News' video from the rally (he and his torch appear around the 0:48 mark):
Twitter users saw the Vice piece and got to work on Roy. They found pictures of him holding his son at the rally from an Instagram account called @whitetaliban (which is private, but appears to be his). An Uno rep says they learned about the situation from people's tweets:
On Tuesday night, Uno's chief marketing officer Skip Weldon announced that Roy "has been terminated." In a written statement, he added that the chain is "committed to the fair treatment of all people," as well as "the safety of our guests and employees at our restaurants."
The Burlington Free Press reports that Roy, 28, had worked as a cook at that location since 2016. He confirmed to the paper that he was in Charlottesville to protest the removal of the Robert E. Lee monument, but argued that everybody's reaction to his participation is "groupthink" that "proves his beliefs about the liberal left." People posted lies about him online, he says, and even called Vermont's child protective services.
"I think it kind of just proves my point, proves a lot of what I think, not that I needed further proof," Roy complained to the paper, before going into a little more detail about his belief system. "Obviously I would advocate for racial separation and racial nationalism or repatriation or even a return to — our country was a white country up until the 1965 Hart-Celler Immigration Act," meaning the legislation that removed racial barriers to entering the United States.