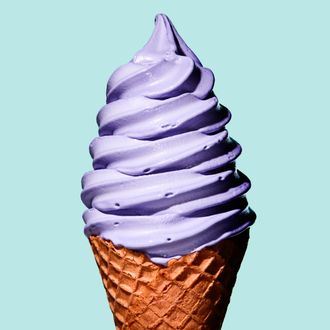 Soft Swerve's ube soft serve.
Photo: Bobby Doherty/New York Magazine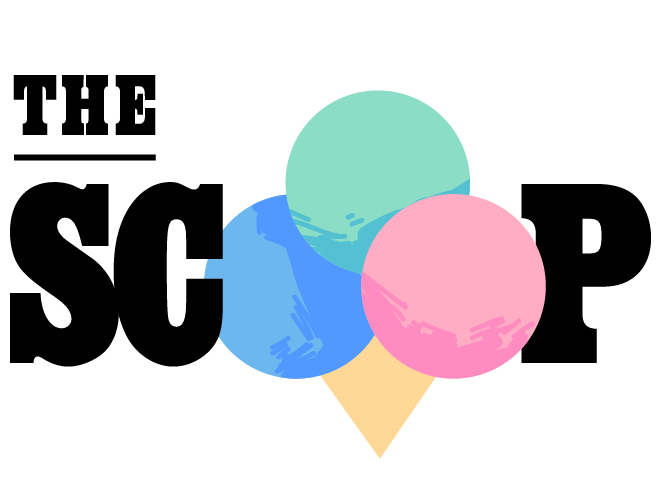 A weeklong series dedicated to exploring everything that's happening in the world of ice cream right now.
The ice cream that's swirling out of the soft-serve machine at the wildly popular Lower East Side shop Soft Swerve isn't a pale vanilla or muted chocolate. It looks nothing like what you'd get after chasing down a Mister Softee truck or during a pit stop at Dairy Queen. It isn't even the kind of Day-Glo orange or pink you might see at some shops. Instead, it's an unmistakable shade of purple, not fake purple, more like something out of a psychedelic tableau. The striking color comes from an ingredient that's a staple in Filipino sweets, but still relatively new to American desserts: ube, the yam known for its outlandishly purple hue — an attribute that is helping propel ube's popularity on social media and has it poised to become the next big flavor.
The appeal of ube is no secret to Filipinos, or fans of the country's cuisine. The tuber has a long history in the cuisine and is a favorite ingredient in sweets, including as a topping in halo-halo, one of the country's most famous desserts, and as a traditional ice-cream flavor. The California-based ice-cream-maker Magnolia (established in 1969) has packed it into pints for years. Restaurants in places like Queens' Filipino enclave, including Tito Rad's Grill & Restaurant and House of Inasal, also serve ube ice cream alongside or as part of halo-halo.
In other words, ube ice cream is nothing new, but there's a big reason for its recent rise in popularity in the U.S.: Second-generation Filipino chefs are driving a movement of popular new restaurants in spots like Los Angeles, New York, and Washington, D.C. As a result, these chefs are having fun with ube, making dishes like chicken and ube waffles (at Maharlika), ube pancakes (D.C.'s Purple Patch), and ube-brown-sugar pie (L.A.'s Irenia), and lots of ice cream like ube malted crunch (at L.A.'s Wanderlust Creamery).
Fresh ube isn't readily available in the States, and it's often found in powdered form, but it has nevertheless broken out of its traditional setting. OddFellows collaborated with Mission Chinese Food, where chef de cuisine Angela Dimayuga gives the menu a touch of her Filipino roots, on an ube ice-cream sandwich stuffed and drizzled with coconut dulce de leche. Morgenstern's once served a limited-run avocado-and-ube ice cream it created in collaboration with Jeepney. Other top ice-cream shops are catching on, too: Ice & Vice served an ube flavor at last summer's Madison Square Eats. Earlier this summer, Van Leeuwen ran a special of ube and Malaysian coconut jam. You can also buy pints at Toby's Homemade Ice Cream & Coffee in Arlington, Virginia, and find it at Chicago's Isla Pilipina. In L.A., B Sweet Dessert Bar serves doughnuts stuffed with ube ice cream, Cafe 86 makes ube ice-cream sandwiches, and mini-chain Leelin Bakery & Cafe serves ube scoops.
All of that is to say, it's blowing up. If matcha was the flavor that caught everyone's attention a few years ago, ube's loud color and relative obscurity in this part of the world give it a distinct advantage as Instagram trophy bait — even if it predates Instagram by a wide margin. Ube has obviously long been a food of subsistence and pleasures for countless people in the Philippines, America, and elsewhere. Like matcha, ube is an ingredient, not a "flavor," that's been used for centuries, but it is now — in some instances, anyway — being treated like the new version of strawberry or bubblegum, a flavor option that's as much about its taste as its visual appeal.
Soft Swerve co-owner and Chinatown kid Jason Liu readily admits that a major part of ube's appeal is its color, pointing out that, "due to the photogenic-ness, it's been our most popular flavor." But that purple tint is just the hook. When people actually try it, they understand why it's so popular in the Philippines: It's mildly sweet and a little savory, so you're not blasted with a sugar bomb. Since it's relatively muted, it's something you can keep eating without getting tired of it (and it's easy to match with other flavors — especially with macapuno, a traditional pairing that Soft Swerve offers with ube as a swirl). The Philippines is already obsessed with anything and everything ube, and national chains from Jollibee to Red Ribbon (both with locations here) serve it in various preparations. It seems there can never be enough ube, and it's probably just a matter of time before Starbucks figures this out, or McDonald's brings this ube McDip Stateside: