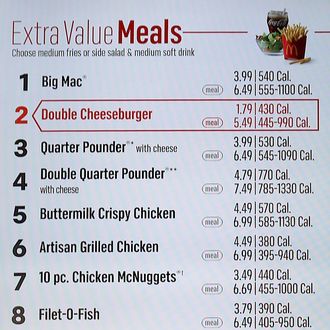 Supermarkets don't want none of this business.
Photo: Joe Raedle/Getty Images
The Trump administration has boldly gone to bat for the food industry's little guys (like the 2,100-member National Association of Convenience Stores) against New York City. Both the grocery and convenience-store industries are suing the city, which has passed a law requiring them to tell customers how many calories are in their prepared food items. Back in 2015, these industries got a two-year warning about the impending requirement. (It's on the books now, but only applies to restaurant chains with 15 locations or more.) A few places — Whole Foods, for instance — made preemptive changes, but crunch time has now arrived for everybody else: The rule goes into effect August 21, and food-industry groups that oppose the rule filed a lawsuit back in July hoping to kill the law before it's ever enforced.
They got a big boost Monday when the Department of Justice filed a "statement of interest" supporting their lawsuit. The U.S. attorneys argue that the Affordable Care Act (the one Trump's fighting to dismantle) gives the FDA full control over calorie labeling nationwide — the agency gets to decide when and how to enforce it. Since the FDA is therefore in charge of "determining when and in what circumstances uniform menu-labeling rules will be enforced across the nation," the lawsuit says, that means Mayor Bill de Blasio can't act "in the face of this clear expression of Congressional purpose."
One strange irony is that the FDA is supposed to be introducing nearly identical requirements. This is per an Obama-era ruling, though, so it's not clear that the FDA is in any hurry. In fact, its most recent action was to delay implementation until May of 2018.
Health advocates aren't thrilled with any of these machinations, telling Bloomberg it's more proof President Trump will "do whatever industry wants him to do," including potentially even discarding labeling requirements entirely. (He's yet to suggest that directly, but he has promised to roll back FDA and USDA regulations.)
New York City's health commissioner, Mary Bassett, says that, to her at least, the new executive branch of the government has no intention of supporting menu-labeling, which the city has required in some form since 2008. "Poor nutrition is fueling an epidemic of chronic diseases," she said in a statement, "and this basic information should be accessible and transparent to all."