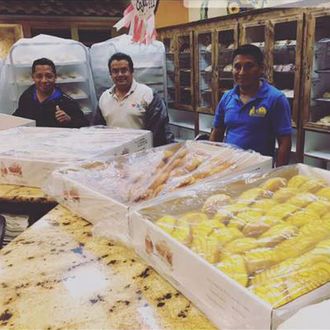 The baking quartet admiring their hard work.
Photo: El Bolillo Bakery/Facebook
Volunteers are now queuing in insane lines to help Harvey victims, but four employees at a Houston bakery jumped right into action this weekend — they single-handedly cranked out multiple tons of bread to donate to people affected by the storm. The reason these Good Samaritans were able to bake at such a crazy clip is because they were also trapped inside their building by floodwaters. As the Independent reports:
The workers from the El Bolillo Bakery in Houston, Texas, used up nearly 2,000kg of flour to bake bread and pan dulce, Mexican sweet bread, throughout the night and day after they were left stranded by the floods over the weekend.
The group worked a late shift Friday night, and at some point realized the street had become impassable thanks to rising water. The bakery itself never lost power, though, and the group had effectively an infinite amount of free time, so they "decided to keep themselves busy," El Bolillo's manager told the paper. They worked around the clock baking pan dulce and other items for two entire days, waiting to be rescued. "By the time the owner managed to get to them, they had made so much bread that we took the loaves to loads of emergency centers across the city." The bakery didn't calculate exactly how much, but it had at least 4,400 pounds of flour on hand when the group got trapped. That's now all gone.
It's definitely one of the storm's most heartwarming tales, precisely the kind of thing that goes viral during natural disasters when the news is so damn depressing (the Independent's story has almost a million shares). That's probably how it came on the radar of former Mexican president Vicente Fox, who tweeted it this morning with a little side commentary of his own: