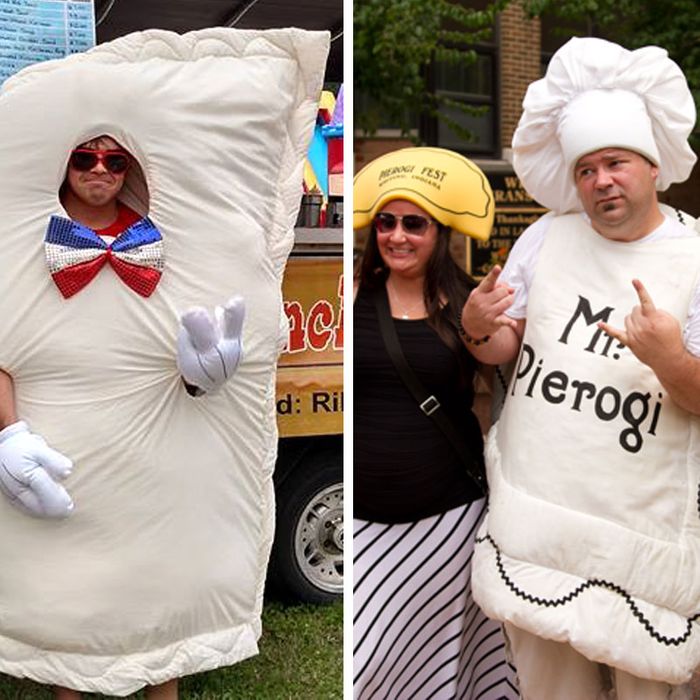 A battle of two pierogi. In the left corner: Edwardsville, Pennsylvania's. In the right: Whiting, Indiana's.
Photo: Edwardsville "Pierogi" Festival; Whiting Pierogi Fest
As a type of dumpling, you could say pierogi are sour and come apart pretty easily. Ironically, this also applies to the organizers of a Chicago-area pierogi festival who're suddenly embroiled in a legal tussle over naming rights.
More or less, the group is fighting with another pierogi-centric event about who gets to call their celebration of Poland's national dish a "festival." The crew they've accused of trademark infringement is in Edwardsville, Pennsylvania — a small town with 4,700 residents, lots of Polish people, and a big annual shindig called the Edwardsville Pierogi Festival, now in its fourth year.
Unfortunately for this group, 700 miles away in the Chicago suburbs, a much larger event honoring the iconic Polish food has been drawing crowds of 300,000 since 1995. Called just Pierogi Fest (or Pierogi Fest™, to get technical about it), this one is in Whiting, Indiana, and its organizers say Edwardsville is ripping off their name. The Associated Press reports they recently sent the upstarts a letter demanding they call their event something else, or pay a licensing fee.
Funny enough, Edwardsville is actually located in the most ancestrally Polish county in America, meaning that Whiting's threats have "gone over as well as undercooked kielbasa," as the AP puts it. The president of the Edwardsville Hometown Committee says the whole battle is "ridiculous," and residents are "beside themselves." To "protect" their local heritage, they struck back on Monday by filing a federal lawsuit of their own. "No person on planet Earth is going to confuse the Edwardsville Pierogi Festival with a suburban Chicago 'Pierogi Fest,'" the group's lawyer said in a statement, before calling the Whiting group "bullies."
Whiting registered the "Pierogi Fest" trademark in 2007. Its lawyers insist the Edwardsville event is "likely to cause consumer confusion," and they've threatened not only to sue the organizers, but also any companies that sponsor it. The chairman of Whiting's festival seems to see this as welcoming Edwardsville to the food-festival big leagues: "Disney does it. Coca-Cola does it. Kleenex does it," he tells the AP. "If you have a trademark, you have to protect it."
Edwardsville residents of course beg to differ. "There is no way we could possibly be in competition with them," one Polish restaurant owner in town observes. The event makes a couple thousand dollars per year. The proceeds pay for the town's annual Easter-egg hunt, and buy the teddy bears that the Edwardsville Police Department gives out to kids.