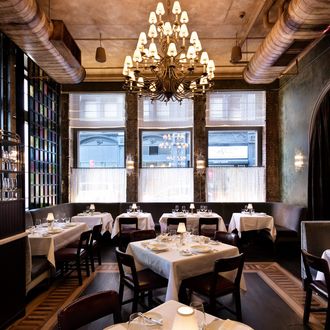 New name, same first-class restaurant.
Photo: Melissa Hom
Tom Colicchio, one of the loudest progressive voices in food, has decided that the name of his newest restaurant is too racially loaded. Fowler & Wells opened last October in the Financial District's Beekman Hotel as an American Gilded Age throwback. It's named for Orson Fowler and Samuel Wells, tenants who printed scientific texts at that address before the Beekman's landmark building (known as Temple Court) was built there. Unfortunately for Colicchio, Fowler and Wells were major proponents of phrenology, a field of study popular in the mid-1800s that held that skull shape and size determine a person's personality and intelligence.
It was blatant pseudoscience, but worse — it became fodder for racists all over Europe and America who wanted to justify slavery. When Pete Wells (the Times restaurant critic, no relation) reviewed Fowler & Wells back in January, he wrote about how Orson Fowler believed black people's head shapes suited them for waitstaff jobs, but gave them "middling" language skills at best. Wells (again: the critic Pete) made it clear that Colicchio didn't share Fowler's beliefs, but it definitely didn't help that the bar menu had a Phrenological Cabinet section that featured a brain diagram and was modeled on a "fixture" from the Fowler & Wells publishing house.
The chef tells the Times today that the review was the name's death knell, and he "very quickly" started telling people internally that they needed to change it. This was pre-Charlottesville, but it's not hard to argue that was a pretty wise call.
For the new name, they went for something completely anodyne: Temple Court. Even though it's the building itself's name, Colicchio's staff did a full vetting anyway before settling on it. The Times says the swap took "months," required the hotel developer's approval, included redesigning the logo, sign, and business cards, and reportedly cost the restaurant as much as $100,000.