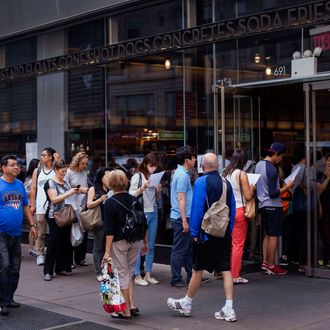 Now you can enjoy the Shake Shack line-waiting experience from anywhere.
Photo: Michael Nagle/Bloomberg via Getty Images
A mob swarms your neighborhood's hidden-gem bistro, and you know damn well that no unicorn drink or gushing New York Times Bites column was involved. Who's to blame for such madness? Possibly something called Surkus, a new app you're about to hate that helps businesses manufacture an instant cool factor. It achieves this by paying people — technically users, but might as well call them actors — to go wait in line or patronize a bar like movie extras.
Sounds like the service-industry equivalent of buying Twitter followers, except, as founder Stephen George tells the Washington Post, Surkus sees itself more as an "online matchmaker" for your city's nightlife. "So many companies know their core demographic, but they don't know how to get a hold of those people," he explains. All these chumps' marketing end up "one-sided," "blasting out a message" they don't necessarily know "is being received."
"Crowdcasting" is Surkus's solution. The company claims to have amassed an army of 150,000 users in five cities (New York, L.A., Chicago, San Francisco, and Miami). They've already gummed up the tables, bar areas, door lines, and floor space at 4,200 events for some 750 clients, but you'll never know which places because discretion is a prereq for participating. Users can reportedly haul in as much as $100 per event, though the average is more like $25 to $40, with women oftentimes getting paid "considerably more" than men. George also adds that "prolific" participation could earn you $4,000 a year, but denies their end goal is just nakedly luring people to events with money. In fact, eventually they want to know "as much as possible about you" to make sure you "can't say no to an invitation."