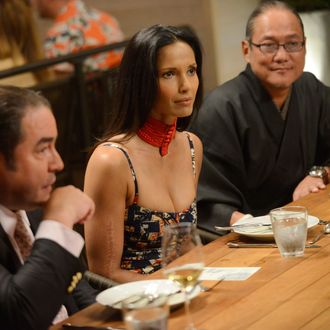 Could probably "smash" right back, to be honest.
Photo: David Moir/Bravo
The trial is finally underway for members of a Boston Teamsters union that allegedly attempted to extort the Top Chef cast and crew when they were in town filming season 12. The mess occurred back in August 2014, when federal prosecutors claim basically everybody on the show — judges included — endured "a gauntlet" of verbal and physical attacks outside the restaurant Steel & Rye because nonunion workers had gotten several filming jobs that the Teamsters wanted. Assistant U.S. Attorney Laura Kaplan told jurors today that one of the picketers, a Teamsters Local 25 member named John Fidler, stuck his arm into Lakshmi's van and told her, "I'll smash your pretty little face." (According to earlier reports, he also may or may not have added "you f—king whore.")
Per the Milton police filing, protesters also slashed 14 tires on Top Chef vehicles. "Ms. Lakshmi will tell you she was paralyzed with fear," Kaplan added. Bravo executives "stood by and did nothing," the crew has claimed, even after the union members "threatened to kill us, beat us, and said that they would find us and force us out of the city." One of the show's staff has said some form of "this nightmare" occurred every day for two weeks.
Five men were originally indicted on extortion charges, but that number's now down to four: Mark Harrington, Teamsters Local 25's secretary-treasurer, pleaded guilty back in November. The union initially claimed — pretty unambiguously, too — that all of the charges were "fiction at best," but Harrington was sentenced to six months of home confinement, and has to pay almost $35,000 in fines and restitution for his role in the attack.
In an especially Bostonian plot twist, the incident has also been linked to Mayor Martin Walsh's director of tourism, Ken Brissette, who's been charged with threatening organizers of a different event after they employed nonunion workers. Anyone who loves a good courtroom drama should either stay tuned, or wait about a year and catch the feature-length film Mark Wahlberg's already hard at work on.