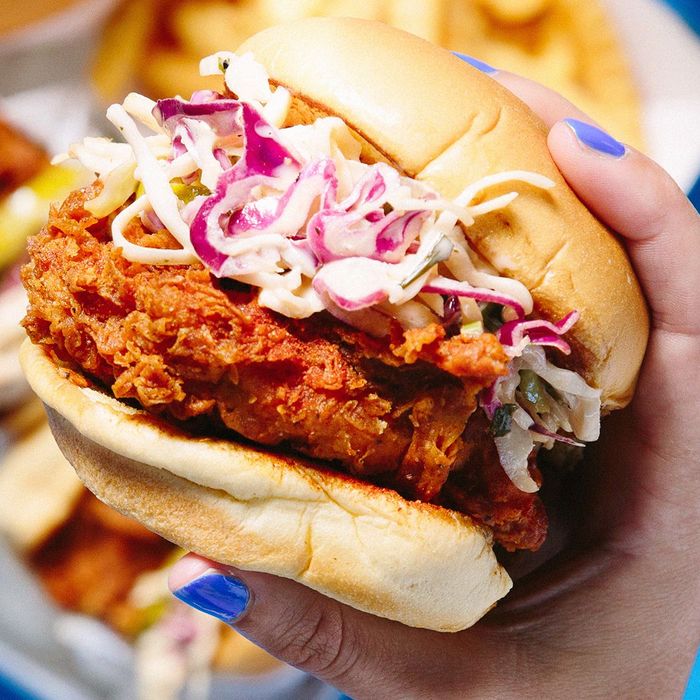 What's not to like about fried chicken and crunchy coleslaw?
Photo: Shake Shack
Anytime Shake Shack updates its menu, it's big news. So you have probably heard that today, the much-loved burger chain officially released its brand-new sandwich: The Hot Chick'n, which, as the name implies, is a spicy update to the Shack's famed Chick'n Shack sandwich.
Here are the specifics: Buttermilk-marinated chicken breast is battered and fried, then "dusted with a guajillo and cayenne pepper blend." It's topped with "Louisiana hot sauce slaw" and some pickle slices, and served on the chain's beloved squishy buns. And while it makes its debut today (it will run you about $7 per sandwich), some preview Hot Chick'ns have been available to order — via the Shack app — for the last couple days. So we grabbed a handful, brought them back to the Grub Street offices, and got everyone's opinion. Here's what you need to know.
It could be spicier.
Every single taster noticed that the actual spice level of the chicken was relatively mild. "Just not hot enough, and if you're going to do this, commit," said one taster. Another agreed: "If you're going to call something 'hot chicken,' you've got to step up to the plate." Given Shake Shack's commitment to all things Americana, it seems our tasters thought this sandwich would be more like Nashville Hot Chicken, which, when made properly, will blow your face off. This sandwich, though, is lightly spiced. The harshest tasting note we heard: "Tastes like something KFC would do."
The toppings are great.
Even though the tasters weren't impressed with the spice level, they also agreed that the cabbage slaw and dill pickles were above par for fast food. The combination of crisp chicken, creamy slaw, and squishy bun is never a bad thing. Even the crisp slices of pickles were noteworthy.
It's not bad … just a little underwhelming.
Perhaps we've just come to expect too much from Shake Shack, a company that has consistently elevated its fast-food offerings. But even though the sandwich itself didn't blow us away, we agreed we'd happily eat it again. "Tastes like a fine chicken sandwich to me," said one taster. "It's not going to get down on one knee and marry me and have children, but it does the job." And, really, what more can you ask for in a fast-food sandwich?