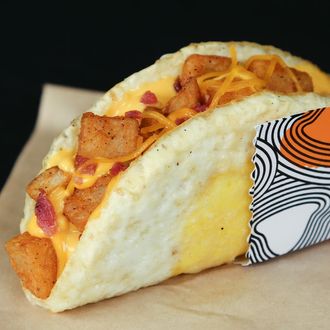 Probably doesn't taste half-bad.
Photo: Taco Bell
Taco Bell's fried-egg taco — the obvious successor to tacos made from waffles, biscuits, and chicken discs fried into a U shape — is finally getting a nationwide launch. Officially called the Naked Egg Taco, the item went through a rigorous four-month test with the people of Flint, Michigan, and it passed (because, duh, it's a giant egg-cheese-potato breakfast concoction). The chain now says the taco is ready for prime time. The item, which is filled with fried potatoes, cheese, and sausage or bacon, rolls out nationwide on August 31. It's only available during breakfast hours, and costs $1.99.
In an age of Pop Rocks burritos, people understand they must handle Taco Bell's food tentatively. But the mess a Naked Egg Taco could cause is even greater than usual: First, it looks really slimy. Second, can it coat your hands in runny yolk? Maybe it isn't runny at all — to prevent leakage, is the egg actually fried far past runny? This of course poses another dilemma: How leathery would the whites have to be so the "shell" doesn't break apart? Or maybe this explains why Taco Bell offers a gordita to wrap around the egg free of charge, if you're so inclined?
Fans who can't wait two weeks to answer these and other questions have a chance to try the Naked Egg Taco in advance using OpenTable. This perk is only available for one day in a few select cities — people in L.A. get their shot on August 25, then it's off to Austin on August 26, and Chicago on August 27. But New Yorkers are up first, on Thursday, August 17. Brace yourselves.