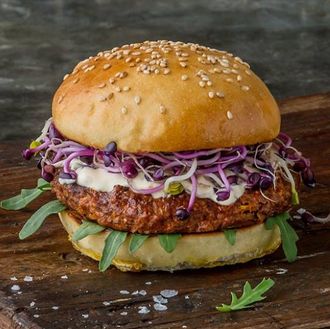 Is the purple stuff sprouts, or a bug, too?
Photo: Tina Sturzenegger/Essento
It took several months longer than promised, but Essento, the Swiss start-up on a quest to trick consumers into eating bugs, is finally about to start selling its mealworm burgers in supermarkets. Its line of patties and "insect balls" debuts August 21 at Coop, one of Europe's largest supermarket chains. Besides mealworms, the burgers contain rice, carrots, and a spice mixture that hopefully errs on the very generous side; a two-pack costs about $9. The balls come in a ten-pack for the same price. Both products are about twice as expensive as Coop's organic burgers, although ground beef can't claim to be "perfectly suited for those who want to learn about the culinary diversity of insects."
It's often said that mealworms — which, spoiler, aren't worms at all, but actually beetle larvae — develop sort of a mushroomy or nutty, shrimplike flavor once they're roasted, which is the treatment Essento's get. Coop suggests treating the bug balls sort of like falafel, meanwhile, and eating them in a pita with fresh veggies and a yogurt sauce.
Coop has been working on this rollout for three whole years with Essento, and a rep from the supermarket chain tells Bloomberg that the original May launch got postponed "due to organizational issues." What Coop failed to mention to the reporter, though, is that Essento's "organizational issues" were mostly concentrated on the supply end: It reportedly couldn't find enough authorized bugs. Insects meant for human consumption in Europe have to (thankfully) go through a rigorous approval process, and that was a problem. In fact, Essento co-founder Christian Bärtsch lamented to Swiss magazine Handelszeitung just a few weeks ago, "No insects are currently available in Switzerland that are approved as food." Looks like they made do with creepy crawlers from Belgian farms, but Essento hopes to offer "a wider selection of edible insects" at Coop stores by year-end.