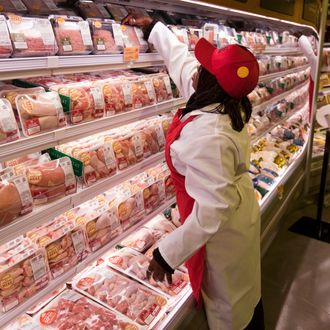 Photo: Brooks Kraft/Corbis via Getty Images
To calm nerves after the Amazon acquisition, Whole Foods CEO John Mackey reassured shoppers and investors that he wasn't going to let Amazon mess with the "highest quality, delicious natural and organic products that you've come to love and trust" by replacing them with some subpar brand. A noble vow, but it turns out that promise may be easier to keep than anyone realized: A growing amount of the grocery chain's meat has ties to Big Food that consumers might not appreciate. In the most egregious cases, it's produced by Perdue or Tyson, then slapped with the 365 Everyday Value label and sold in Whole Foods stores, despite being available for less at run-of-the-mill supermarkets.
It stems from a simple problem: Rivals have figured out how to copy Whole Foods' high standards for meat, so the organic grocery chain's execs have had to find ways to sell theirs for cheaper. The meat aisles at Kroger, Costco, and even Walmart all carry products of comparable quality these days — the only nontrivial difference is sometimes just price itself. A new Bloomberg report did a cost comparison and found that 365 Everyday Value's antibiotic-free chicken thighs were $2.49 a pound at Whole Foods, while the Perdue Harvestland version of the same exact thighs slaughtered at the same Perdue plant was just $1.99 a pound at a nearby Key Food. Whole Foods also now sells beef from Open Prairie Natural Angus, a Tyson Foods brand, and Meyer Natural Angus, one processed by Cargill. Both brands are easily found at retailers like Target and Jet.com.
Whole Foods argues that what sets it apart is its transparency about sourcing. It only sells meat that is certified as Step 1 or higher by the Global Animal Partnership. While that's great, critics may no longer find it straightforward enough to merely say meat came from a GAP-certified brand: Meyer — which, to be clear, is totally different from Oscar Mayer — sells beef that Whole Foods stocks behind the meat counter with no brand labeling. It's GAP-certified. But it's also produced at a Cargill facility in Colorado that doubles as the place that processes the conglomerate's own GAP-uncertified cattle. Regardless which beef is being processed, the lines run "at the same speed" with the "same equipment, same employees." Supposedly, the two kinds of beef stay segregated at all times, and the whole operation is monitored by USDA officials.
This isn't exactly a surprise, considering the grocery industry's current cutthroat environment. This news, though, comes amid complaints by small farmers that the company is watering down its "Responsibly Grown" rating system, so it's easier for big, conventional farmers to get organic certification, as well as claims by animal-rights groups that it's selling meat that is far less humanely raised than the labels purport. Not exactly a great PR moment.