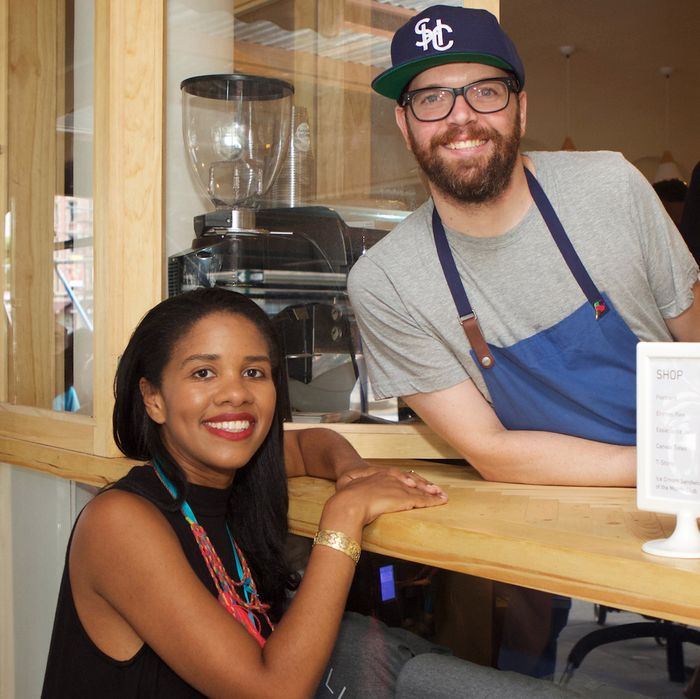 Sugar Hill Creamery owners Petrushka and Nick Larsen on opening day.
Photo: Clay Williams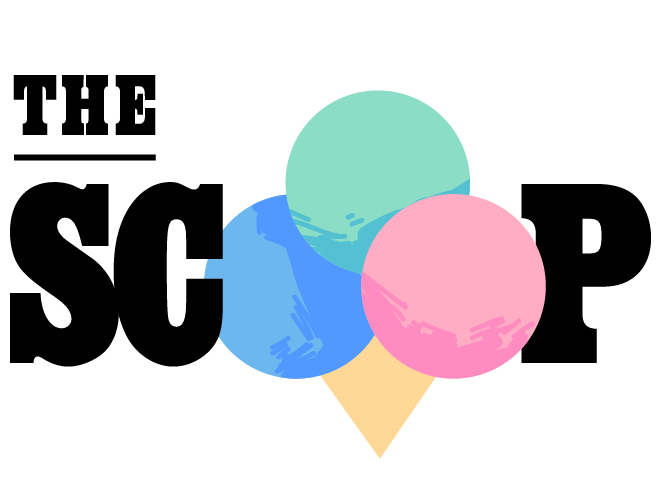 A weeklong series dedicated to exploring everything that's happening in the world of ice cream right now.
At some point, everyone fantasizes about dropping everything to open an ice-cream shop, a small place where the main concern is whether there's enough salted caramel on hand to get through a busy Saturday night. Very few people actually do it, of course, but the city's newest shop is exactly that kind of project. Nick and Petrushka Larsen are the couple behind Sugar Hill Creamery.
They envisioned opening a space that's as much about community as it is about scoops. Since Thomeforde's soda fountain closed in 1983, big brands like Baskin-Robbins and Mister Softee have dominated the market in Harlem, and the Larsens say Sugar Hill Creamery is the first family-owned ice-cream shop in the area in 34 years. As a result, virtually every aspect of the 500-square-foot Sugar Hill Creamery draws from the local community. That includes their designers, CO-Office, who are based in Harlem, as well as their bank. "We wanted to walk the walk," Nick says. While Nick has serious restaurant experience from Blue Hill and Telepan, Petrushka is connected to the Harlem community, working for a literacy-based nonprofit.
As for the actual ice cream, which they developed with Lafayette sous-chef Joey Stallings, the menu is a mix of familiar flavors (vanilla bean, salted-caramel crunch) and just-unique-enough twists (corn-and-jalapeño, blueberry cheesecake). They produce everything in-house and, as you might expect, use a number of local ingredients. "We're collaborating with Ida Preserves for the jam to put in our ice cream, and Essie Spice for the tamarind and guava flavors," Nick says. "Our next-door neighbor's making our cookies and our brownies for us."
The idea for the shop originated, Petrushka explains, during a trip to Washington, D.C., when they enjoyed ice cream at Little Baby's inside Union Market. "Nick and I had this kind of 'aha' moment, like, wait, we don't have any ice cream at home in our neighborhood," she says. After Nick moved from small-town Iowa ("like 700 people, corn, soybean, middle of nowhere") to New York to pursue a career in comedy, he met Petrushka when he hired her as a server at 107 West, a restaurant he managed. "It wasn't a love-at-first-sight connection," she jokes.
Eventually, though, Nick did ask her out, and they moved in together. Nick went to culinary school and worked front-of-the-house jobs at Bar Boulud, Bouley, and Blue Hill New York. He started working at Telepan three months before it closed. "I've always wanted to open a restaurant in Harlem, but closing Telepan opened my eyes to the toughness of the industry," he says. "So I was like, 'Let's do this small business. Do something for the neighborhood that we love.'"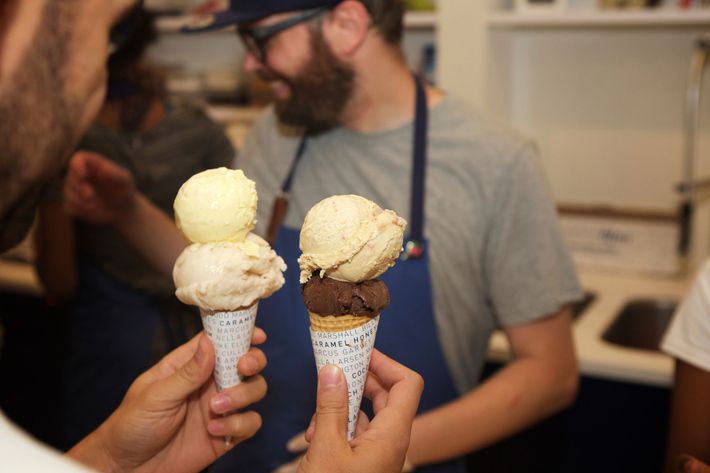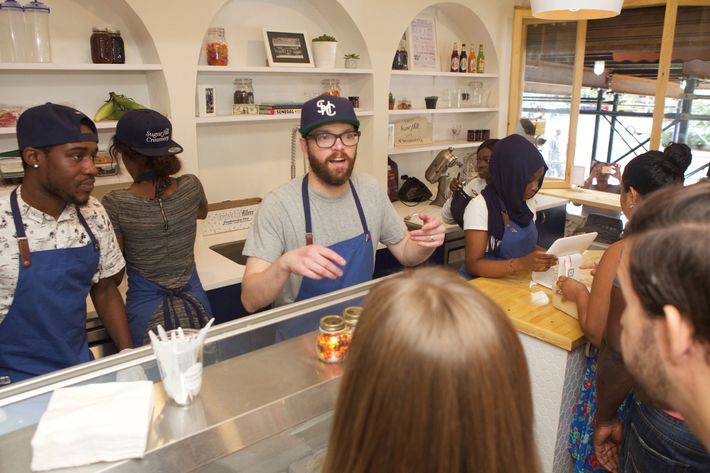 "Nick is the pragmatist of our duo, and I am the dreamer," says Petrushka, who's now the executive director of the Reading Team (she's keeping her full-time job while helping out in the shop). The issue was that they were worried that an ice-cream shop couldn't make enough money year-round. "The numbers weren't making sense. But my background is in community engagement and exhibition-making and working with kids. I'm a very talkative person. I can talk to anyone at the register. Just based on what I feel is a project of 13 years of field research, I said, 'It's gonna work.' We have a good sense and pulse of what our neighborhood needs. This is the dessert everyone loves."
It helped that the Larsens secured financing in the form of a loan from Upper Manhattan Empowerment Zone, a Harlem nonprofit. They joined the Harlem Park to Park business alliance, earning support from Columbia Business School, Whole Foods, and Hot Bread Kitchen. Being in Harlem also offers business incentives. "The rent in Harlem makes it such that it would be a harder thing for us if we were located in another location than we are right now," Petrushka says. They chose to open on Lenox Avenue, the street they also live on, because of its neighborly feel; nearby is a toy store, a few schools, a church, and Marcus Garvey Park. Red Rooster is just five blocks away. So far, it's proven to be a huge success: On opening day, people lined up down the block for four hours.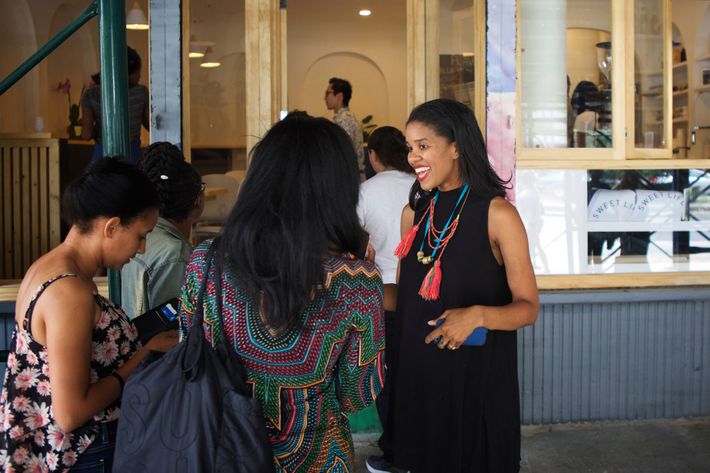 "We know that Harlem is gentrifying, like so many neighborhoods, and that we are part of that microcosm," Petrushka says. "We are selling $4.50 ice cream. We have to acknowledge what our agency is in the matrix, but in doing that, also honor the legacy, tradition, and history of our neighborhood. That's where gentrification goes wrong."
Now that the shop is open, they've commissioned artist Raúl Ayala to draw portraits of residents in Harlem. "It's a way for us to honor our neighbors and actually put a face to who they are, and be able to collectively celebrate the diversity of this neighborhood," Petrushka says. The portraits will rotate periodically throughout the year, and customers can even enter a raffle (as long as they have a Harlem Zip Code). "The idea is that it's important to see yourself in anything, really, in order to feel good about being there."
At a time when ice-cream-shop owners often prioritize baroque creations with Instagram potential, the main draw at Sugar Hill is something that can't be photographed: hospitality. "It really is an extension of our home," Petrushka says. "It's very personal. It's kind of like when you welcome people into your home to break bread with you, except it's that we're hosting dessert all the time."