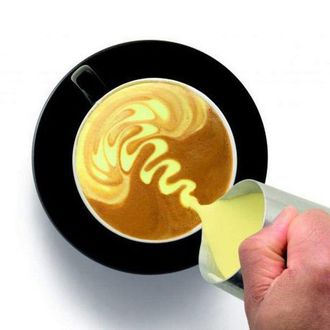 Only in London, for now.
Photo: Starbucks
With everybody unicorning and pumpkin-spicing foods these days, Starbucks has to really stay on its A-game so that customers don't patronize rivals (which now include Country Crock and Pringles). The strategy lately has largely consisted of adding painfully trendy menu items — hello avocado toast, mermaid Fraps, and sushi burritos — and this week, the coffee chain strikes again. Yesterday in London, it unveiled its newest drink item: the Latte With Turmeric. According to a press release, it's made by "steaming milk with aromatic turmeric powder and spices" (standard practice for this fad), but then pouring that concoction over espresso (not standard at all). Starbucks says that by caffeinating the drink, it's put a delicious "new twist" on "one of the latest trends," and just in case you were thinking of taking pictures of the item, it also lets baristas make "beautiful Instagram-able latte art."
Turmeric has gotten wildly popular (Google Food Trend's "breakout star" of 2016) because of the purported health benefits. The root vegetable that stains anything has been a mainstay of Indian medicine for millennia. It's said to have anti-inflammatory and antioxidant properties, and studies show it might maybe possibly help fight certain cancers or treat infections, but some scientists remain skeptical. The evidence suggesting the coffee world has hit peak turmeric latte, however, is now widely accepted by everyone.