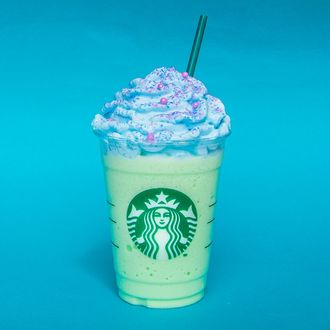 Ready for selfies, if you're south of the border.
Photo: Starbucks
After months of watching rogue baristas trot out unsanctioned drinks (some of them pretty gross-looking), Starbucks today is giving its mythical-creature-obsessed customer base a 100 percent official Mermaid Frappuccino. That's it on the left: It's a striking shade of pastel green, it tastes like melon, and it gets topped with blue whipped cream and shiny pink pearls — man, is it Instagram-worthy! Unfortunately, you can't have it, sorry to say. It's only available at Mexico's 600 locations:
A press release brags that Starbucks has captured the "fantastical characteristics and classic elements of these creatures" to "create the new Mermaid Frappuccino" for customers there. The drink combines the Frappuccino cream base with melon and, apparently, some "magical flavor from the sea," then coats it in a thick layer of blue and pink sprinkles. Realizing it's opened a Pandora's box and needs to discourage Americans from demanding baristas give them this drink — which honestly they're still going to do, regardless — the company has also issued a statement saying the Frap's magical (and therefore very specific) ingredients "are not available in Starbucks stores in the U.S." What it should've gone with is: "Your whipped cream will NOT be blue."
Unless this is some sort of attempt to troll Trump supporters, it all sort of feels like a marketing blunder in America. After all, the mermaid is quite literally Starbucks's logo, so you could argue that's a wasted chance to reinforce brand identity. Unicorns, meanwhile, are fake creatures that a Brooklyn café claims it modeled a drink on first, and has sued the chain for copying.