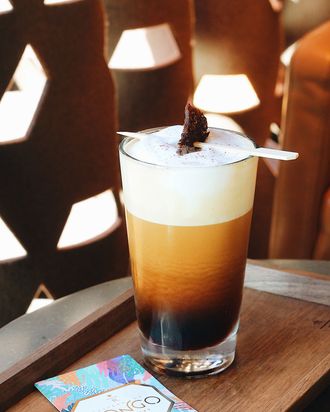 Comes with a snack for later.
Photo: Bailey Carlin/Starbucks
The number of cold brews on the market today is a little overwhelming. (Do you want it steeped for 12 hours, 24 hours, or 36 hours? Made using a four-foot-tall tower, or a paper filter? In a bottle, or on tap?) Perhaps that's why Starbucks has introduced Pepper Nitro With a Jerky Twist — to give customers a specialty beverage they'll probably pretty straightforwardly reject in favor of another option, any other option, on a menu that already stretches a half-dozen cold brews long.
The inspiration was to complement the tasting notes of an heirloom small-lot coffee sourced from a farm in the Democratic Republic of Congo. Wanting things that "paired well with savory ingredients," Starbucks has decided to serve the nitro-infused drink with a fennel-black-pepper syrup, and top it with honeyed foam and pink peppercorns. "Grass-fed" beef jerky then goes on top. This meat hunk comes on a bamboo skewer and essentially just dangles there, in a nod to trendy cocktail culture. For now, it's also only available at the Seattle Reserve Roastery, Howard Schultz's new mad-science coffee lab that, for better or worse, is already cranking out things like "barrel-aged" cold brew.
Regardless your feelings about adding meat to coffee, though, the provenance of the Pepper Nitro's beans is kind of cool: Decades of war have ravaged the Democratic Republic of Congo, maybe the most inaccurately named country on Earth — 2010's exports were less than 10 percent of 1989's, the high point for coffee production there. But some stability is returning to the industry, and Starbucks has begun working with Falcon Coffees, a supplier that provides credit, offers agronomic training, and supports gender initiatives at farms in developing countries. "I know of no tougher environments in the coffee world to work in," the company's CEO Konrad Brits says. "But these Reserve coffees demonstrate the potential of this region to produce truly specialty grade coffees." Pepper Nitro is a limited-time drink at the flagship Reserve Roastery, but Starbucks is also selling bags of another coffee — Kawa Kabuya — that's sourced from the DRC.