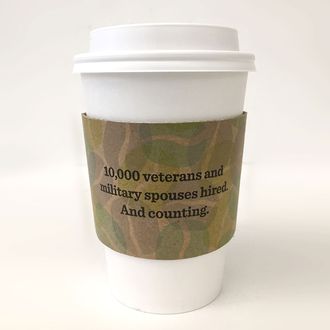 Starbucks is doubling down on its mission to convince Americans that it's extremely into the military. Starting today, cup sleeves at participating cafés will now spell it out loud and clear: Bold font on the side reads, "10,000 veterans and military spouses hired. And counting." The sleeves also have a special color scheme: camouflage, but with coffee beans as the earth-tone splotches.
Officially, they're part of a larger campaign that encourages people "to really get to know" America's veterans — by looking for one at their local Starbucks. As fodder, the company released a couple of ads that feature ex-military baristas talking to "real-life co-workers" about why it's not okay for civilians to approach them and (in the words of one Navy veteran) say things like, "Oh, snap! Did you kill a lot of people?" In a statement describing the goal of the new campaign, the chain's vice-president of global social impact explains that members of the armed forces often feel isolated when they return to normal life, but Starbucks cafés are "uniquely" poised to help reintegrate them because they function as "a venue to connect people."
Anyone waiting for ways to label the move crass — as history suggests pro-Trump conservatives will — won't be standing there long. Starbucks's press event right before this one was last Wednesday, a corporate forum in which executive chairman Howard Schultz denounced the "empowerment of white supremacists and neo-Nazis in recent days" before a crowd of 1,500 employees, while circulating a rock he'd brought back from Auschwitz. Schultz didn't call President Trump out by name, but the symposium's title was "Hate Has No Home Here," and many people read it as a less-than-veiled swipe at Trump over his mishandling of the Charlottesville, Virginia, rally. Following this by immediately putting a camo advertisement of its commitment to the troops on the chain's cup sleeves is probably going to strike critics as a little too on the nose.
Still, it's a fair point that Starbucks is right — it does employ lots of veterans. It currently has about 160,000 U.S. employees, and says it's hired more than 10,000 veterans and veterans' spouses since 2013. Even if a quarter have quit, that would still be almost 5 percent of the company's workforce. (And as a side note, it plans to hire another 15,000 by 2025.) By comparison, fewer than one percent of Americans have ever even served in the armed forces. Starbucks's 10,000-employee count includes spouses, which probably isn't totally fair, but that's still a lot of jobs for veterans, either way.