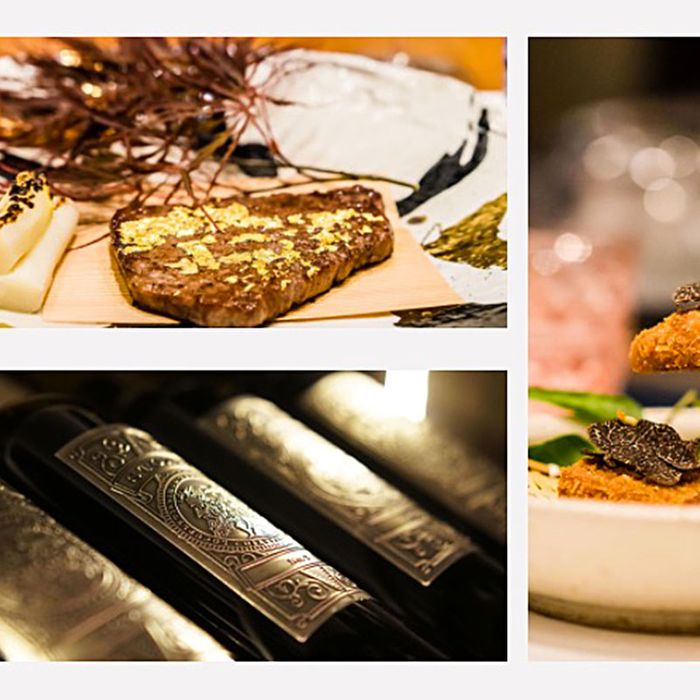 A screenshot of Hiroshi's website, showing "a wagyu steak experience like none other."
Tech moguls in Silicon Valley now live a short driverless-car trip away from the world's "ultimate Wagyu steak experience." Hiroshi is the brainchild of chef-owner Hiroshi Kimura, who tells Business Insider that he surveyed the Bay Area restaurant scene on a trip from Hawaii in 2016, and decided San Francisco had a serious dearth of places catering to the "region's wealthiest." His new eight-seat restaurant is a single-handed attempt to fix that supposed problem.
Hiroshi opened this summer. It has no windows, no set menu, a hidden TV for PowerPoint presentations, and an average meal price of $500 to $600 after drink pairings and tax. You have to book all eight seats at once, no exceptions. (If there are six of you, in other words, you're still paying for eight.) The location is "discreet" — in a Los Altos strip mall, next to Footwear Etc., Western Union, and a barbershop, which, for the Über-rich, gives it an exoticism similar to what the Maldives are to everybody else. The dining table is made from an 800-year-old Japanese kiaki tree, the crystal glassware is hand-cut, and the beverage list is on an iPad. The theme is omotenashi, the practice of extreme Japanese hospitality, so presumably if Sergey Brin books a dinner, he'd be provided with a Samsung tablet for his sake perusing.
Between the restaurant's website and Business Insider's visit, chef Hiroshi's dishes appear to include cold sōmen noodles with caviar, a fried-pork-cutlet sandwich, black-truffle shavings on nearly everything, uni by the plateful, and wagyu beef that's FedExed every week from a supplier in Japan. He serves it sprinkled with gold leaf "for show." Guests get their own private hibachi grill, so they "can cook their steak longer or reheat it." But as a diner, you probably shouldn't do this, if you can help it: Hiroshi has been "perfecting the art of wagyu steaks" since he was 16, and he apparently gets perturbed when guests ignore four decades of Kobe mastery and let the food get cold by Instagramming it.
It's all incredibly Silicon Valley–sounding, so San Franciscans who prefer to eat their high-end beef without a tableful of Russ Hannemans or a $4,000 tab might be relieved to hear this week's other Bay Area Kobe news: Wagyumafia, a very serious Tokyo steakhouse (despite the name), is opening its first American outpost in the city very soon. Ordinary folks will be able to nosh on its budget-friendlier $180 wagyu sandwich, a steal by comparison.