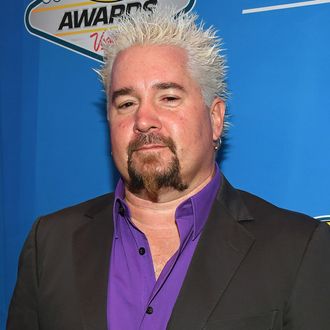 Guy Fieri, maybe not bad.
Photo: Ethan Miller/Getty Images
I know you think Guy Fieri is just a day-old Hot Pocket filled with Smash Mouth lyrics, but what if he's actually good? This is the fundamental premise behind comedian Shane Torres's definitive defense of the Mayor of Flavortown. And now you can hear it, too, as we are happy to premiere the track from Torres's debut stand-up album, Established 1981. But wait, you heard the food at Guy's American Kitchen & Bar isn't as good as at Le Bernardin? Grow up! And listen. And learn why you would rather be stuck in a foxhole with Guy "It's pronounced Fietti" Fieri than Anthony "human black-T-shirt collection" Bourdain.