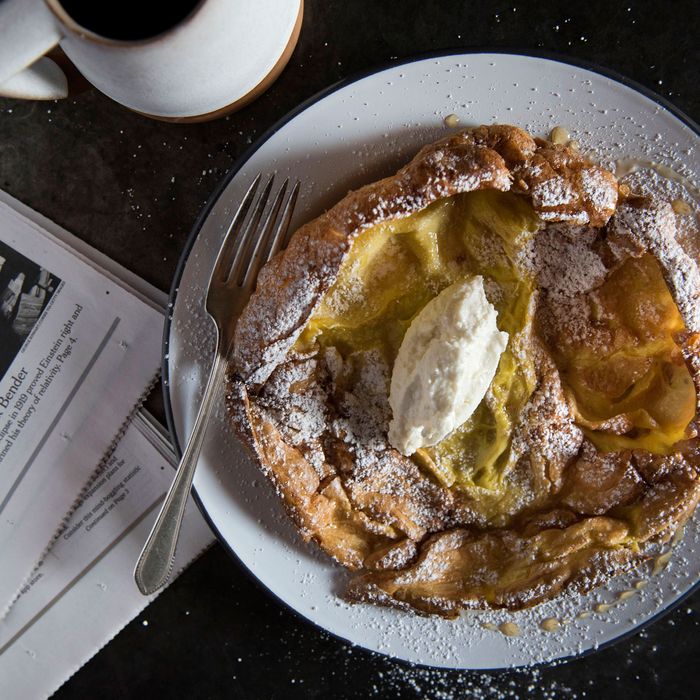 Gaby Gulielmetti's now making this Dutch baby at Rivertown Lodge.
Photo: Liz Clayman
Bonfiglio & Bread was the kind of bakery that made you want to buy a caftan and a Jeep and move upstate. Located in Hudson, New York, roughly a two-hour drive from Manhattan, it was the ideal small-town café, offering homemade bread, simple dishes that highlighted local produce, and strong coffee. It earned many, many fans — accomplishing the feat of winning over both locals in Hudson and weekenders coming in from the city. Then, in May, after five years in business, Bonfiglio suddenly closed. The good news is that chef Gaby Gulielmetti and his partner, Rachel Sanzone, are actually going to be cooking more than ever.
"Our landlord wasn't considering renewing our lease," Gulielmetti says matter-of-factly. "But we're starting fresh." They're moving Bonfiglio to nearby Athens, where they were already thinking of adding a second location. The real surprise, though, is that Gulielmetti has taken over the kitchen at Rivertown Lodge, the modern hotel in Hudson that's located right across the street from the original Bonfiglio. He's not only making brunch; for the first time, he's cooking a dinner menu that includes a smoked sweet potato with anchovy butter, clams in turmeric broth, pappardelle with carrot-top pesto, and head-on prawns with harissa.
"There's definitely a coastal, Mediterranean aspect to everything I cook, but I love the flavors of North Africa and Morocco, and heavily spiced, acidic food that's fresh and bright," the chef says of his style, which of course relies heavily on local ingredients. "It's about constantly seeing what's available to us, and just trying to bring in sharp, fresh notes, but, you know, punchy flavors. We're not trying to be delicate here."
Meanwhile, Sanzone (Gulielmetti's fiancée and business partner) is overseeing Bonfiglio in Athens, set to open soon, and she and Gulielmetti are already baking bread there. It'll feel a lot like the original, with wood-fired pizzas and some of the original greatest-hits menu items, but will be more of a full-service operation, with a larder ("smoked chickens, grain salads, things of that nature") and, eventually, dinner service.
Gulielmetti is conscious of making Rivertown Tavern a neighborhood hangout, and not just a destination restaurant inside a chic hotel. Ambitious chefs upstate don't always toe that line — take Zak Pelaccio's Fish & Game, which won a James Beard award but is definitely a special-occasion spot, complete with a tasting-menu option. "We want food that's affordable to as many people as possible," Gulielmetti notes. "A place that you can come more than once a week, if you choose. Obviously, we want to make money here, but we're not trying to pull from everyone's pockets. Our steak is a perfect example of that — an eight-ounce, grass-fed steak with broccoli rabe and black-garlic sauce costs $22. Everywhere else, that's a $35 steak."
In the five years since Gulielmetti and Sanzone opened Bonfiglio, they've seen Hudson become increasingly attractive to New Yorkers. As with any gentrifying area, this isn't always met with enthusiasm, but Gulielmetti welcomes the change. "There's obviously an aspect of the city here that wasn't here in 2012," he says. "There were always city people here, but I don't think it was necessarily city-driven at that point. We can make really good food, and the landscape now allows for it. I feel like it's okay to provide food at a certain cost; not everything has to be $3. There are more restaurants. We don't see it as competition, we see it as a benefit to the city itself — that you have options."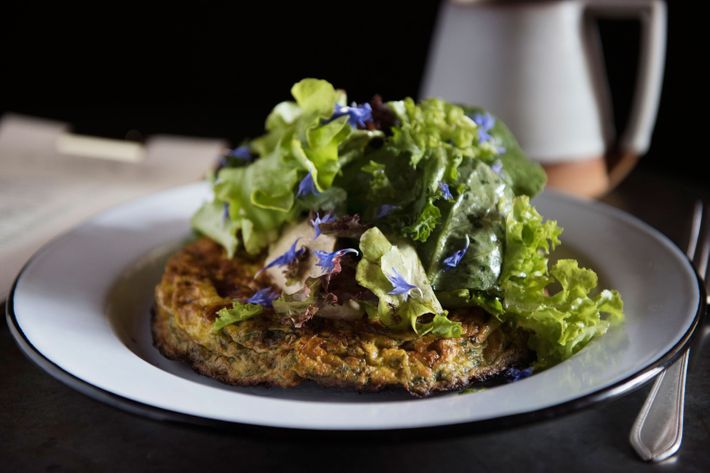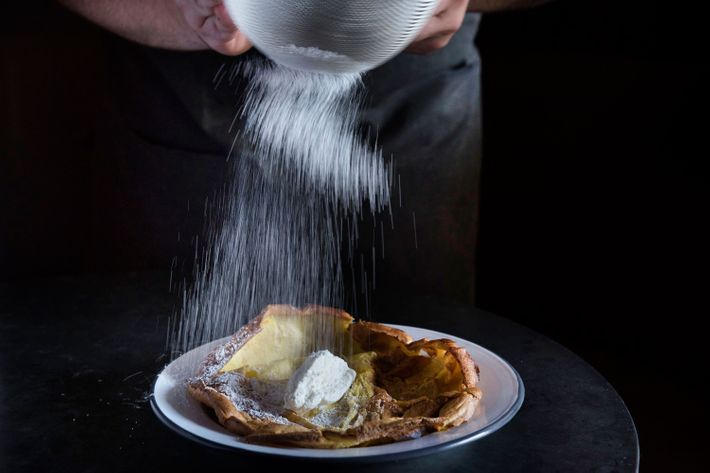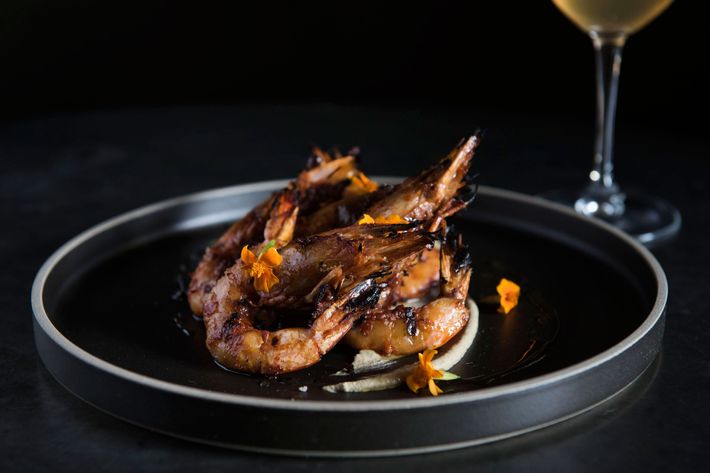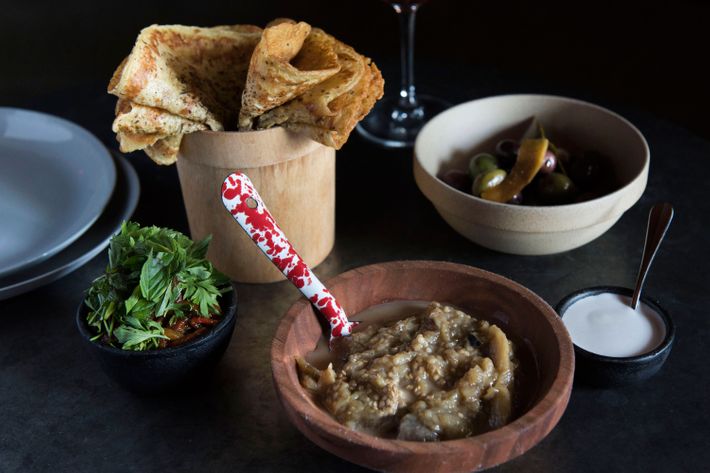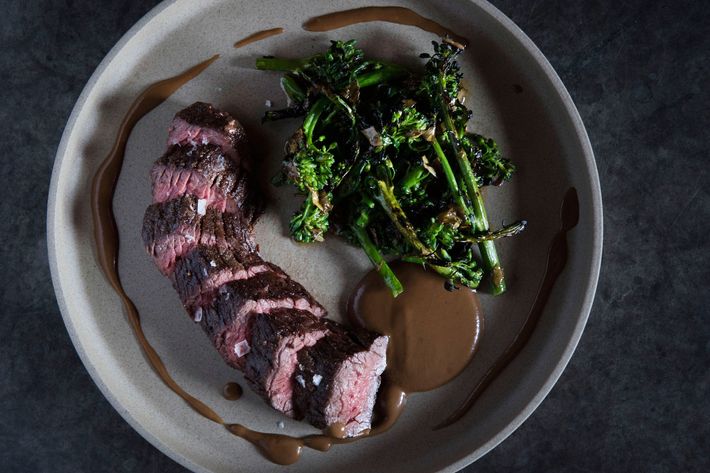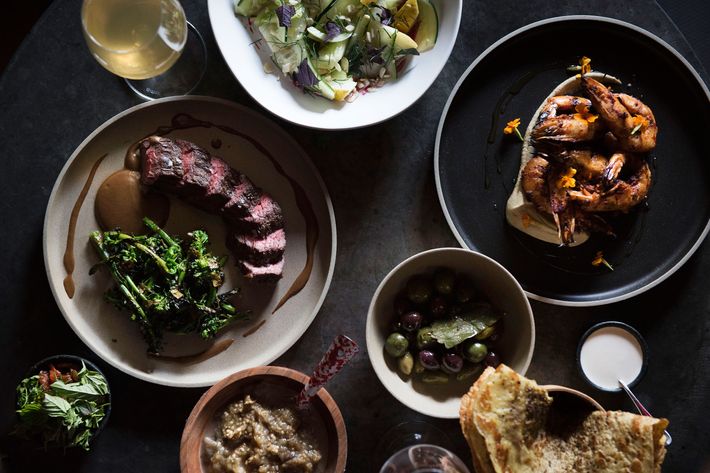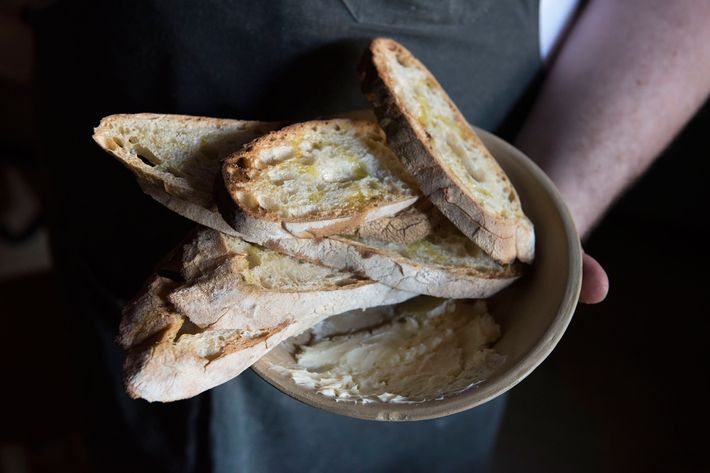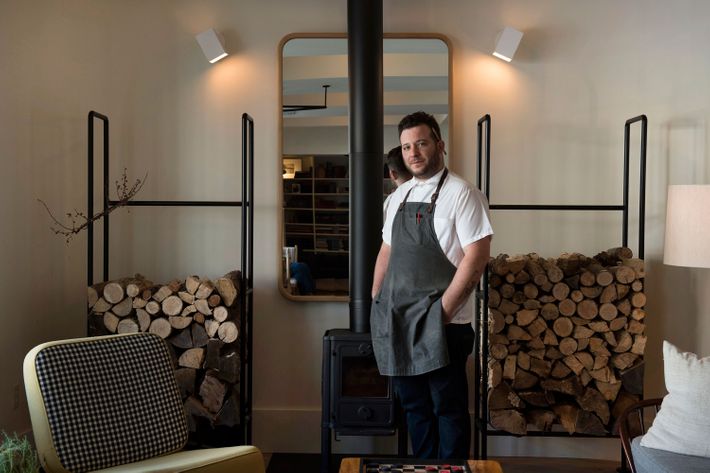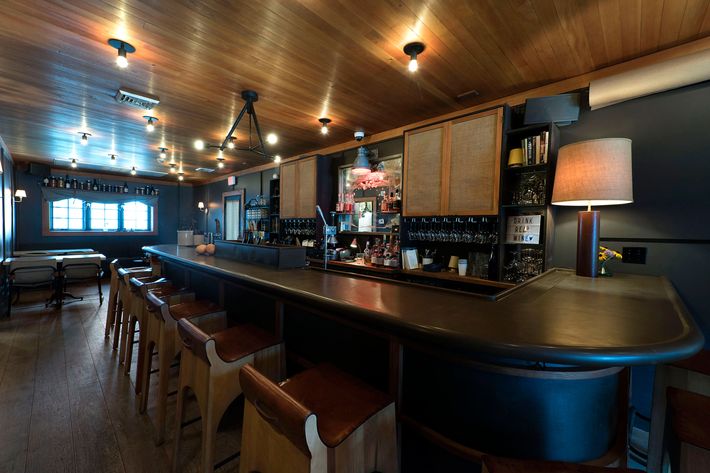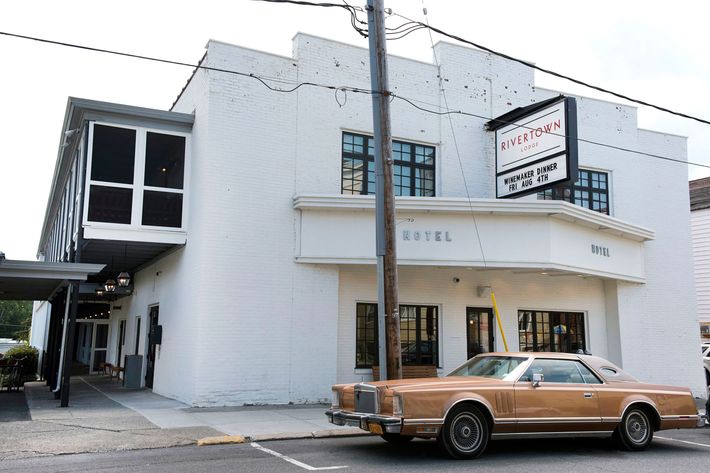 Rivertown Tavern, 731 Warren St., (518) 512-0954