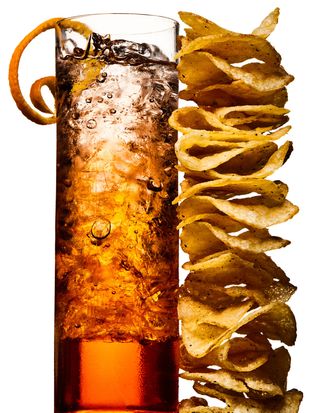 Pisellino's Aperol Spritz and olive-oil-and-black-pepper chips.
Photo: Bobby Doherty

After the summer doldrums, both appetites and restaurant openings rev up. The new season is jam-packed with Peking duck, Turkish steak, Japanese chains, neo-brasseries, and Brooklyn banchan. And because this is New York, there is lots of pizza on the horizon, plus an abbondanza of Italian food. Ahead, all that and many more new restaurants to put on your radar this fall.
Levante
26-21 Jackson Ave.
The latest from the Luzzo's BK pizzeria folks is this just opened 2,000 square-foot indoor space with 30-foot-high ceilings and a sizable open-air backyard. Should be plenty of room for the dough to rise.
Martina
198 E. 11th St.
Danny Meyer's Roman-food guru, former Marta and Maialino chef Nick Anderer, brings his ultra-thin-crust pizza to the well-lubricated, frequently hungover, always hungry East Village — a built-in audience if there ever was one. Unlike the wood-fired pies at the mother ship, Marta, Martina's are smaller, cheaper ($7 to $12), cooked in a gas oven, and doled out counter-service style. One of those vibrating pager thingies Meyer popularized at Shake Shack will buzz you when yours is ready.
Oka
439 Third Ave.
wd-50 alum John McCarthy forsook Manhattan's restaurant fray for the calmer pace of Hudson, New York, where he opened the Crimson Sparrow in 2012. This fall, he's back in town with his take on izakaya fare: fried chicken and ramen, sure, but also cured salmon roe with yeasted sunchoke purée and chips.
Popina
127 Columbia St., Columbia Street Waterfront District
Southern meets Italian in the original Pok Pok Ny space, because who can resist a dish called Hot Chicken Milanese? The creator of that combo is chef-partner Chris McDade, a Georgia native who's cooked Italian at Café Altro Paradiso, Marta, Maialino, and Atlanta's KR SteakBar.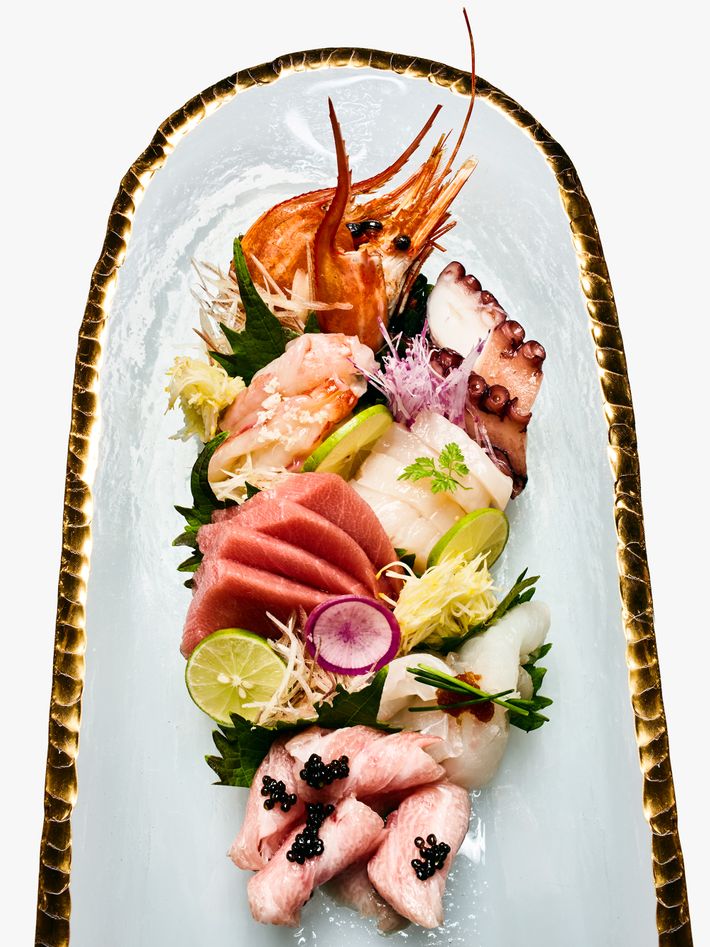 Areppas
954 Third Ave.
The owners of this fast-casual restaurant are Venezuelan, so we assume the misspelling is intentional. Their approach to stuffed corn cakes is equally untraditional: They're imbued with the flavors (and colors) of beets, carrots, and green herbs, and fashioned into combos like the Morningside, a red arepa filled with scrambled egg, ham, and Guayanés cheese.
BYGGYZ
37-39 Clinton St.
You can't do a fall-preview restaurant list without a mention of Dewey Dufresne's perpetually-previewed-but-never-opened sandwich shop. We'd know; we've been at it for so long that it's become a sort of addiction. The good news: The forces of evil who run the city's restaurant bureaucracy have grown weak and tired, and it won't be long, says Dufresne, before we're all chomping Byggybeef sandwiches. What do you mean, "I've heard that one before"?
Caffè Marchio and Vini e Fritti
30 E. 30th St.
Danny Meyer's Roman fixation continues apace with a standing espresso bar (Caffè Marchio), and a sitting aperitivi counter (Vini e Fritti) at the Redbury.
Camillo
1146 Nostrand Ave., Prospect-Lefferts Gardens
Before there was pizza, there was pinsa, an ancient Roman flatbread made from a mix of wheat, corn, soybean, and rice flours. That's the main attraction at this trattoria from the team who also runs Brooklyn's Locanda Vini e Olii in Clinton Hill. The name of the restaurant refers to Count Camillo Negroni, the man behind the ever-popular cocktail.
Celestine
1 John St., Dumbo
The way the PR is describing the riverfront views at this restaurant hard by the Manhattan Bridge in Dumbo — sweeping, majestic, practically life-altering — you'd be happy if it served you Kraft Macaroni & Cheese. But the group of industry whiz kids behind the project, including Rucola's Julian Brizzi, would like to distract you as much with traditional eastern-Mediterranean fare like housebaked flatbreads and whole grilled fish as with the scenery.
Claro
284 Third Ave., Gowanus
The Freek's Mill crew joins forces with T. J. Steele, a New York chef who's spent over a decade traveling around Mexico to cook, eat, and launch the mezcal brand El Buho. Here, Steele and co-chef Chad Shaner will explore the nuanced realms of Mexican barbacoa, consommé, and especially corn: Housemade nixtamal claims its own menu section, featuring dishes like garnachas with goat tartare and turkey-tinga quesadillas.
Don Angie
103 Greenwich Ave.
Scott Tacinelli and Angie Rito, the married couple responsible for the titanic chicken parm served with a pizza cutter at Quality Italian, bring their waggish Italian-American style to the West Village. Sample menu items: black-and-white semolina bread with griddled provolone, escargot oreganata, and rib eye braciole for two.
Elio's
20 Maiden Ln.
From the folks at midtown's Allora Ristorante who brought us the 30-foot-long strand of spaghetti: chicken-parm pizza by the slice, lobster-and-cheese conchiglie, and chocolate ravioli for dessert.
General Debs
24 Irving Ave., Bushwick
A Sichuan restaurant from the mom-and-pop team at locavore pasta mecca Faro? Why not, when chef-partner Kevin Adey turns out to be something of a secret ma la aficionado who has been practicing his dan dan mian technique at home for years? The Deb in General Debs is Adey's business partner and wife, Debbie, and the name of the restaurant is presumably an acknowledgment of who really runs things around here.
Irving Farm Coffee Roasters
78 W. 3rd St.
The veteran coffeehouse plants a flag in NYU-ville, bringing along chef Danielle Dillon's shakshuka breakfast sandwich and a focus on cold brew.
Life Restaurant
19 W. 31st St.
Stephen Hanson — the man behind Ruby Foo's, Blue Water Grill, and Dos Caminos — hasn't had a place to call his own since he sold his stake in the company he founded. That changes with the opening of this new boutique hotel and restaurant, both named for the magazine launched there. There's a wood-burning oven, a rooftop "chef's garden," and dishes that run the gamut from fermented-celery-root noodle "pasta" to spicy dry-aged beef tartare.
lil' gem
29 Clinton St.
Melissa O'Donnell's remake of the Lower East Side space that housed her Salt Bar and Thelma on Clinton honors her Lebanese grandmother, the aforementioned Thelma, with a New York take on the shawarma joint. The rotating selection includes tamarind duck with labne and honeyed cherries, lamb liver and sweetbreads with house-smoked bacon, and roasted root vegetables with miso hummus, all served on fresh-baked flatbread.
The Loyal
289 Bleecker St.
With the Loyal, John Fraser (Dovetail, Narcissa, Nix) is looking back. Not to stints he did in Paris or at Thomas Keller's French Laundry, but to the summers he spent cooking and bartending at Montauk's legendary watering hole the Shagwong. "My first jobs were in American tavern-type restaurants," he says. That experience will inform the "super-populist" American fare he's planning to bring to the former Pagani space in the West Village.
Mothership Meat Company
27-20 40th Ave., Long Island City
Josh Bowen (of John Brown Smokehouse fame) cooks brisket in a supercolossal J&R pit and serves it Texas-meat-market style — i.e., plopped onto butcher's paper and priced by the pound.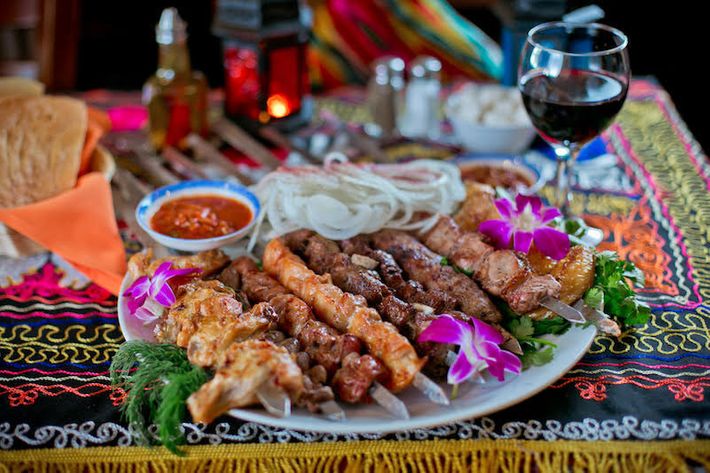 Nargis Bar and Grill
155 Fifth Ave., Park Slope
Uzbek cuisine lands in Park Slope with this outpost of South ­Brooklyn's popular Nargis Cafe. The menu's rife with Russian, Korean, and Middle Eastern influences but has at its core Central Asian specialties like lagman, the meat-and-noodle soup; the fat-glossed lamb pilaf called plov; kebabs aplenty; and the full roster of meat dumplings and pies, from chuchvara to chebureki.
Old Rose
113 Jane St.
All-day operation in the former Café Gitane space at the Jane Hotel from those super-stylish hipster bon vivants Matt Kliegman and Carlos Quirarte, of the Smile and Smile to Go. The kitchen skews healthyish and Italian and works overtime Thursdays through Saturdays with a late-night oysters-and-pizza menu. Up-and-comer Joey Scalabrino (Iris Café, Lighthouse) is the chef, and we're already drooling over the sound of his mortadella-and-fried-egg breakfast sandwich, not to mention the Sasso chicken with tomato panzanella.
Raviolo
57 Seventh Ave. S.
It takes all types of dining concepts to make a world-class restaurant city. And so, from the envelope-pushers at Mulino a Vino, we have Italian dumplings and vitello-tonnato steamed buns served dim-sum style, plus a "bubble" bar and a gin-and-tonic bar all under one West Village roof.
Rice & Gold
50 Bowery
Once you open a restaurant, bar, and rooftop in one hotel (the Arlo NoMad), how hard can a second one be? Dale Talde and his partners will soon find out at 50 Bowery Hotel in Chinatown, where the chef's Asian-inspired menu will include dishes like crispy papaya salad, hand-pulled noodles, and Thai fried chicken.
Seppe
3 Navy Pier Court, Staten Island
What would a splashy, new, amenity-happy rental complex like Urby Staten Island be without a place to go for pizza, the fifth borough's official foodstuff? With a pie guy who did time at Adrienne's and Harry's in Manhattan, Seppe fits the bill. The pizza restaurant's kitchen will even use produce from Urby's on-site farm "whenever possible," as cautious locavores like to say.
Sorbillo
334 Bowery
Enthusiasm for puffy Neapolitan pizza codified to within an inch of its life may be on the wane these days. But if anything can spark a resurgence, it's this New York flagship from the Neapolitan celebrity super-chef Gino Sorbillo. According to his PR, Sorbillo's father is the 19th of 21 children, all of them pizzaioli. So, yes, you could say that pizza-making runs in the family.
Tali/Tali Dolce
77 Lexington Ave.
Everything you could ask for in a gluten-free counter-service restaurant, including full bar, bakery, ice-cream shop, Top Chef Season 1 winner Harold Dieterle as consultant, and mozzarella sticks.
Tang Hotpot
135 Bowery
A Sichuan-style hot pot from a co-owner of East Village noodle shop the Tang, who plans to season broths with spices and herbs imported directly from Chengdu. Add-ins will range from "Lambo," an offal-heavy combo of lamb kidney and tripe, to Dungeness crab and wagyu beef.
Tetsu
78 Leonard St.
Inspiration for Masa Takaya­ma's Tribeca restaurant came from the chef's world travels and the comfort foods he craves — among them, hamburgers, which he'll be cooking professionally for the first time. There will be four varieties — lamb, beef, chicken, and duck — all served on pretzel buns, but only at the bar during dinner service, and only in limited quantities.
Tonchin
13 W. 36th St.
The first New York restaurant from a family that operates dozens throughout Asia is part ramen shop, part izakaya. The broth will be tonkotsu, the noodles housemade, and the menu encompasses dumplings, karaage (fried chicken), and the skewered and grilled foods called kushiyaki.
Whirlybird (+ Greens)
600 11th Ave.
Seamus Mullen carves out a new fast-casual concept from his existing El Colmado station at Gotham West Market, this one showcasing rotisserie-grilled chicken served by the half or the whole, or in salad or wrap form. Since this is Mullen — author of Real Food Heals — we're talking about, "wrap," in this case, means lettuce leaves and nori encasing combos like "Not a Burrito," fortified with pickled cabbage, cauliflower "rice," and coconut aminos.
Wokuni
325 Lexington Ave.
Like its 50 sister restaurants in Japan, this seafood specialist will serve bluefin tuna and king yellowtail farmed in Nagasaki by parent company Tokyo Ichiban Foods. You can have yours prepared in classic fashion — sushi, sashimi, tempura, or grilled — or buy it from the retail counter to cook (or not) at home.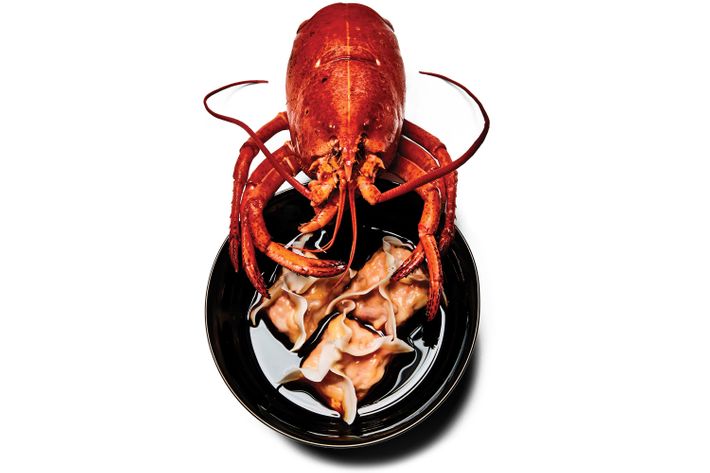 Coco Pazzo Kitchen and Restaurant
160 Prince St.
Pino Luongo revives his buzzy 1990s Upper East Side spot in Soho, this time with a very 2017 fast-casual component. [Read more.]
DaDong
120 W. 42nd St.
Chinese celebrity chef and Peking duck specialist Dong Zhenxiang lands in midtown. [Read more.]
Di Fara Pizza at North 3rd Street Market
103 N. 3rd St., Williamsburg
Don't count on Di Fara Pizza patriarch Dom DeMarco himself to serve up your Sicilian slice, but if this kiosk at the upcoming Williamsburg food hall is as good as the short-lived Di Fara spinoff, DeMarco's, on Houston Street was, it's going to be a contender. Says DeMarco's daughter, Margaret, who will run the stand along with a few of her siblings, "My father's like a mad-genius painter who needs his equipment to always be in the same position." With that in mind, everything in the kitchen, down to the exact distance between pizza station and pizza oven, is being designed to replicate the Midwood shop. When the maestro shows up for a guest-pizzaiolo appearance, he'll feel right at home.
Frenchette
241 W. Broadway
A Tribeca brasserie from the masterminds who brought the world Balthazar fries and the Minetta Tavern Black Label burger. [Read more.]
Holy Ground
109 W. Broadway
Here's a restaurant category that's new to us: the meat speakeasy. That is what restaurateur Matt Abramcyk and his barbecue partners Nathan Lithgow and Franco Vlasic of the terrific Fort Gansevoort BBQ pop-up are calling it. The idea, they say, is classic New York steakhouse meets The Dukes of Hazzard. No, sorry, that's not right. What we meant to say is New York steakhouse meets "back-country smoke shack." What that means is, no cafeteria trays, butcher paper, or slices of spongy white bread, but rather pork butts and briskets served tableside like prime ribs and Caesar salads, plus an abundance of veggie-forward sides.
Joe & Pat's
168 First Ave.
Danny Meyer's Martina isn't the only thin-crust specialist to head to the East Village this fall. There's also 57-year-old Joe & Pat's, the pride of Castleton Corners, Staten Island, which is bringing its patented dough-punching technique to the former Lanza's space. Expect a reasonable facsimile of the Staten Island menu, down to the slices "available up until dinnertime," says partner Casey Pappalardo. After that it's strictly whole pies out of the signature Fish-brand revolving-shelf oven.
Lobster Club
98 E. 53rd St.
This was the name the Major Food Group chose for the Greenwich Village sandwich shop that never was. Now, it's what the boys are calling their Peter Marino makeover of the old Brasserie space at the Seagram Building. Instead of triple-decker sandwiches, it's raw and cooked seafood from former Sushi Azabu chef Tasuku Murakami.
Markato
125 W. 55th St.
While Milos is best known for its pristine and pricey seafood, owner Costas Spiliadis caters to the common man, too, at the grab-and-go Milos Café around the corner. This fall, he expands on that theme with a larger takeout shop, oyster bar, and marketplace, stocking all manner of Mediterranean imports and local goods, from sea salt and olive oil to charcuterie and cheese.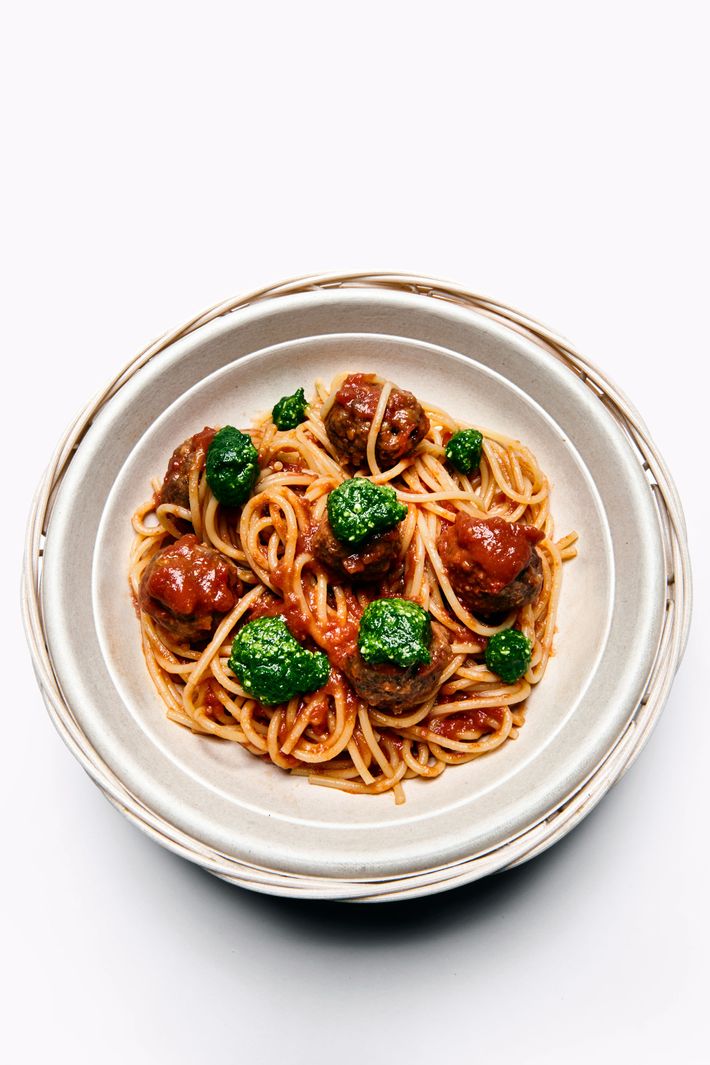 Pasta Flyer
510 Sixth Ave.
The former high-flying Del Posto chef Mark Ladner sets out to make the highest quality pasta for the widest possible audience in an old Chipotle space for about the cost of a Big Mac Extra Value Meal. [Read more.]
Scampi
30 W. 18th St.
Former Ai Fiori chef PJ Calapa does refined southern Italian with a monthly rotating take on the classic Italian-American dish shrimp scampi.
Sottosuolo Panzerotti Cart
122 E. 27th St.
Deep-fried Puglian mini-calzones, stuffed with fillings savory (mozzarella and tomato) and sweet (Nutella), are the latest addition to New York's street-food scene, courtesy of the owners of I Trulli and its new spinoff, Sottosuolo. Look for the cart stationed outside the restaurant and at the corner of Park Avenue South and 27th Street.
Uncle Boons Sister
203 Mott St.
As much as we'll miss Ann Redding and Matt Danzer's weird and wonderful Mr. Donahue's and its delicious turkey meatballs and crispy pork-cheek sandwiches, this takeout spinoff of the couple's Thai restaurant, Uncle Boons, which moves into the Mr. D's space, sounds like a pretty great consolation prize. "It's going to be our idea of Uncle Boons fast food — lower price point, simple dishes," says Redding. "My mom has threatened for years to open a restaurant called Uncle Boons Sister next door to Uncle Boons and put us out of business. We stole the name."
Unnamed Restaurant From the Queens Kickshaw Team
40-17 Broadway, Astoria
After trying to be too many things to too many people with their multitasking Astoria spot, the Queens Kickshaw, Ben Sandler and Jennifer Lim have decided to focus. They're converting the space into a Chinese restaurant, albeit one with a menu covering "Sichuan, some Filipino-Chinese dishes Jen grew up with, as well as twists on American-Chinese takeout," says Sandler.
Ajjuma
318 Bedford Ave., Williamsburg
In Korean, ajjuma is a respectful term for any married woman, though it also has a pejorative meaning, evoking stereotypical images of dowdy, older, and aggressive ladies, who apparently favor permed hairdos. So why has chef Sunny Lee — a veteran of Blue Hill and Insa — chosen it as the name of her banchan restaurant? Because, she says, for her, the word connotes a strong woman in charge, and she likens it to the Italian nonna, Greek ya-ya, or Israeli balaboosta. [Read more.]
Brooklyn Cider House
1100 Flushing Ave., Bushwick
Permit issues delayed wine merchant turned cidermaker Peter Yi's plans for a Brooklyn cidery, tasting room, and restaurant for more than a year, but the hiatus has given him time to focus on his New Paltz orchard and Basque-inspired bottlings and to determine which pair best with dishes like cider-braised chorizo, dry-aged rib eye, and bacalao.
Fausto
348 Flatbush Ave., Park Slope
Savvy wine guy Joe Campanale and former L'Artusi chef Erin Shambura take over the old Franny's space with regional Italian cooking but — probably wisely — no pizza.
Kish-Kash
455 Hudson St.
Having honed her couscous-rolling skills over several months of Tuesday-night specials at Balaboosta, Einat Admony opens a restaurant devoted to the decidedly not-out-of-the-box stuff. Classic North African Jewish accompaniments include braised meats, spicy fish, and all manner of vegetables (mashed, pickled, stuffed). The family-style setting and service are meant to transport you to a Tel Aviv Shabbat dinner.
L'Atelier de Joël Robuchon
85 Tenth Ave.
Joël Robuchon has 26 global restaurants and about a zillion Michelin stars, but for the past five years he's lacked a New York presence. That changes with this two-pronged project in the former Colicchio & Sons space: up front, the relatively casual Le Bar, serving presumably meticulous salads and sandwiches; in the back, a branch of the megachef's pioneering L'Atelier, which sparked the haute-bar-dining trend.
Legacy Records
517 W. 38th St.
Hudson Yards' conversion from no-man's-land to ritzy Zip Code will largely be driven by ambitious projects like this — a bilevel space with a coastal-Mediterranean-themed restaurant, a café and bakery, and a cocktail and wine bar, all ensconced inside a new luxury rental building and operated by the team behind Charlie Bird and Pasquale Jones.
Nusr-Et
60 W. 53rd St.
Nusret Gökçe, a.k.a. Salt Bae, brings his meat recipes and signature salt-dash maneuver to the old China Grill space. [Read more.]
Rosemary's Pizza
1 Perry St.
After nearly two decades spent slinging salumi and stirring the pasta pot in one kitchen or another, Rosemary's Enoteca & Trattoria chef, Wade Moises, finally gets a chance to make his all-time favorite food: That's right, pizza, wood-fired and creatively topped.
west-bourne
137 Sullivan St.
How is this L.A.-inspired, "accidentally vegetarian" all-day café different from all others? It comes from Danny Meyer's former director of business development and pledges to donate a percentage of sales to the Door, a job-training organization. There will be California wines and sandwiches like the Mushreuben, which is, as it sounds, a Reuben made from maitakes, plus sauerkraut, Peppadew peppers, and Swiss cheese.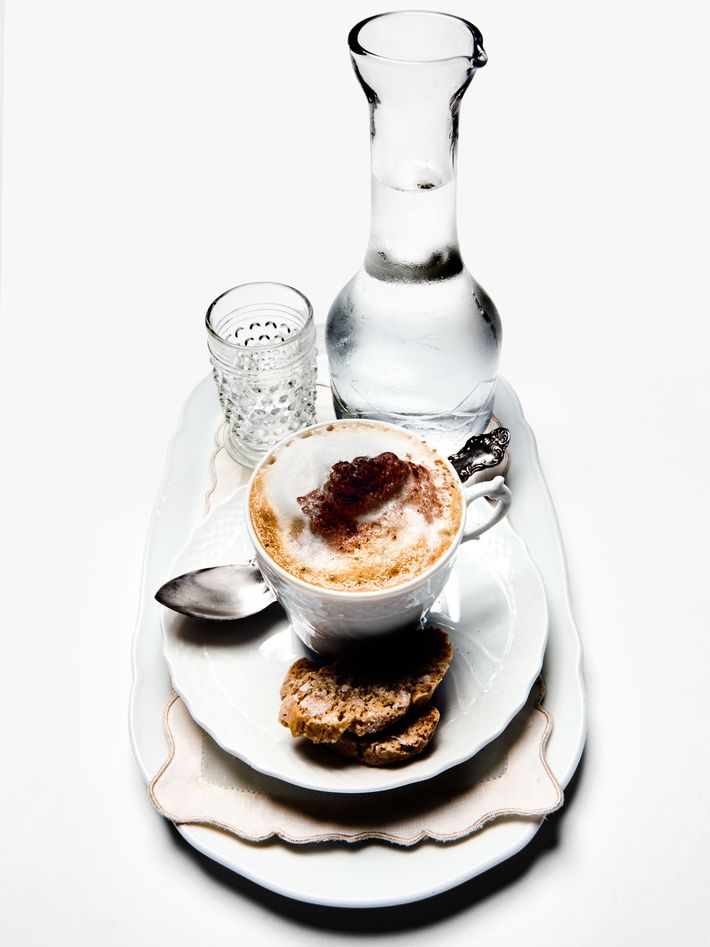 Paulie Gee's Slice Shop
110 Franklin St., Greenpoint
Paul Giannone, everyone's favorite disgruntled software engineer turned Neapolitan-pizza master, conjures up memories of his formative Brooklyn pie-chomping years to take on the old-school slice joint. Think Baker's Pride gas ovens, recycled pizzeria seating, and vintage Cornelius JetSpray beverage dispensers. And the pizza? "Nothing fancy," says Giannone. "Sicilian, maybe a grandma, lots of vegan pies."
Pisellino
100 Seventh Ave. S.
Via Carota's chef-partners bring the very urbane tradition of the Italian all-day bar to the West Village, with coffee, cocktails, pastries, snacks, and sandwiches (but no bar stools). [Read more.]
Ravenswood Tavern
46-62 Vernon Blvd., Long Island City
"Cook what you like to eat" is good advice for any chef to follow — provided, of course, that what the chef likes to eat isn't Jell-O salad with tiny marshmallows. What Mu Ramen chef Joshua Smookler likes to eat (besides ramen, of course) is steak and pasta, as it turns out, and that's what he's bringing to the old Alobar space in Long Island City, along with such old-school crowd-pleasers as shrimp cocktail and prime rib that he'll give a few modern tweaks and adjustments. Where, by the way, does Smookler like to go for steak and pasta? "I really love Carbone," he says. "Not that I can afford it."
Zauo
152 W. 24th St.
Finally, a Japanese chain restaurant that provides its diners with toddler-size poles and allows them to catch their own fish from an indoor moat before handing it over to the kitchen to prepare. The, er, catch, is that you're stuck with whatever you land, or charged a catch-and-release fee. So try not to hook an old tire or a sea captain's boot.
*A version of this article appears in the August 21, 2017, issue of New York Magazine.