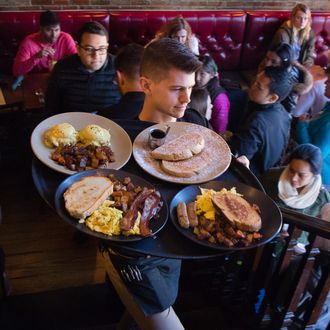 On the upswing.
Photo: Carl D. Walsh/Press Herald via Getty Images
Restaurant-industry coverage over the past year has basically been a deathwatch — a list of who's declaring bankruptcy, whose quarterly earnings were worse, what commodity's prices were about to skyrocket. But federal job-growth data released today suggest maybe the death rumors were greatly exaggerated. The Bureau of Labor Statistics, the agency that tracks U.S. employment numbers, says that the industry added 313,000 new jobs in the past year — that's over half the population of Wyoming! Fifty-three thousand were added in July alone. In short, this is insane growth compared to other industries; it literally destroys all of their growth rates. (Some quick context: Education and health care — two job giants — added 54,000 jobs in the past month combined.)
The Atlantic's Derek Thompson points out this number is even more stunning when you consider that the restaurant industry — a tiny sliver of the economy on the whole — accounts for about a tenth of the new jobs in the BLS's report:
The theory that fits best with these crazy job-growth numbers is that supply has simply outpaced demand — there are just too many amazing places to eat nowadays — meaning the competition is brutal and wealth is spread too thin, even as restaurants hire more workers.
There is one outlier, though: Denny's has seen six straight years of sales growth, a streak it chalks up to giving Americans what they really want: all-day breakfast.