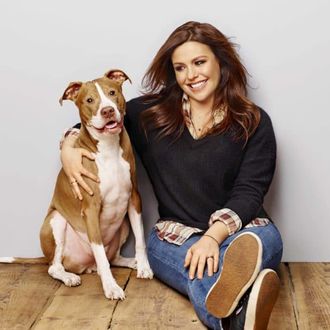 With her rescue pit bull, Isaboo.
Photo: Courtesy of Rachael Ray
Veteran dog chef Rachael Ray is making sure there's enough support for all of Harvey's furry victims. Estimates right now vary, but by Monday, large cities like San Antonio say they'd already taken in hundreds of displaced pets, some of which are being sent to shelters as far off as Seattle and New Jersey. The chef, No. 2 on Forbes's highest-paid list and herself a rescue-pet owner, wrote on her Facebook page that the Rachael Ray Foundation and her high-end pet-food brand Nutrish had donated $1 million to animal-welfare groups that are "actively working in Texas and Louisiana to care for animals."
She isn't the only chef finding a somewhat niche way to help out — José Andrés traveled to Houston, found a Target, and loaded a basket full of pasta and red sauce to cook for people. Even Budweiser quit bottling beer so it could ship nearly half a million cans of water to the region.
Ray's Nutrish line donates a percentage of its sales to pet charities, so fortuitously, the company was just able to earmark a portion of those for relief efforts. Among the organizations that got a chunk were the SPCA of Texas and Austin Pets Alive!, which are now each $100,000 richer.