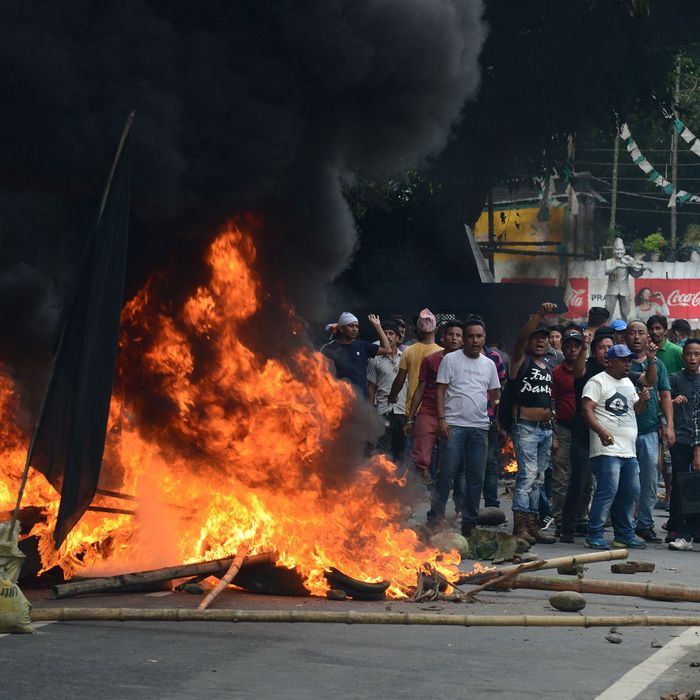 Protesters who definitely aren't harvesting tea.
Photo: Diptendu Dutta/AFP/Getty Images
Fans of Darjeeling might want to find a backup variety for their afternoon tea, because the so-called "Champagne of teas" is suddenly in very short supply. The Telegraph reports that the Indian government calls it "the worse season ever" for the country's prized tea, thanks to political unrest in the Darjeeling district where it's grown.
The tea comes from just 87 gardens there, and a majority of the 100,000 workers are Gurkhas, a Nepali-speaking group that's in the middle of fighting for a separate state they propose calling Gorkhaland. They've been on strike since June — growers say their gardens are now "full of weeds," and that the losses could amount to nearly $40 million, and even result in a worldwide shortage.
Darjeeling tea has always been pricey — it can fetch more than $300 per pound, and has been auctioned for as much as $840. Its four growing seasons are called "flushes," and the flush right now (the one protests have disrupted) is, unfortunately for tea drinkers, when about half of the year's crop gets harvested. "This is the worst crisis we have ever faced," one grower explained to the BBC. "Future orders are being cancelled, and there is no fresh supply."
The consequence is that tea is disappearing fast: Supermarkets in Japan claim their stocks will be out by November unless the protests end, and one German importer has begun referring to Darjeeling tea as a "limited edition" beverage. Even if workers went back to work tomorrow, it would reportedly take months to recoup the losses.
But, hey, at least Starbucks now has a Shaken Iced Piña Colada Tea Infusion on the menu?