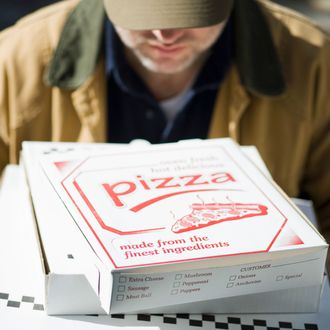 He admits the money would've gone toward helping him "stay toasty."
Photo: Foodcollection/Getty Images/Foodcollection
If the biggest problem with your next pizza order is that the pie has become a mangled wad of cheese and pepperoni in one corner of the box, maybe consider yourself lucky? Los Angeles resident Lauren Ledford says she ordered a pizza last week off the Postmates app, but accidentally didn't tip the driver. He wasn't happy about that, if the four-page missive that allegedly appeared afterward on her doorstep is any indication.
Ledford put part of the letter on Instagram and Facebook. Per the image in her post, the driver allegedly copped to being "disgruntled" about the Postmates life in which delivery people like him depend on customers' generosity:
Ledford's order was sort of the final straw. The driver admits he got "just kinda high," one thing led to the next, and soon he was reportedly en route to Ledford's house with a note warning he's "probably gonna rob" her. "Who knows what a disgruntled delivery driver who can't afford to eat that day is capable of," he added.
Not until page three of the rant, though, does he list the potential dangers of not tipping him:
You not tipping is making it so I'm actually losing money working this job.

So please, next time trip your delivery driver. And if it turns out that delivery driver is me again, and you do not tip yet again, I'm probably going to rob you. I'm only joking, but not really. Don't risk it though.
After this, he insulted Jewish people and tossed in a half-page of misogyny before signing off with "OK, end rant." For her part, Ledford tells KTLA she thought Postmates already included the tip as part of its "service fee" (another reason why food-delivery platforms should make this less ambiguous). Police in Redondo Beach, where she lives, are investigating the matter as a criminal threat — potentially a felony — and Postmates released a statement saying it's "removed the independent contractor from the platform." But Ledford isn't sure that's enough, and says she also wants a restraining order against him.