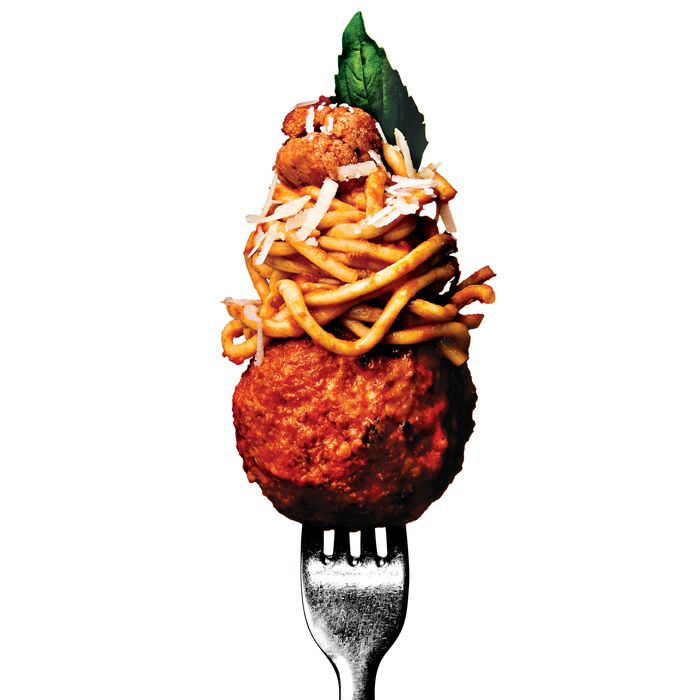 A bite of Coco Pazzo's chicken-meatball piatto unico with spaghetti and cauliflower.
Photo: Bobby Doherty

Chroniclers of Italian food in New York City know Pino Luongo as an ambitious, irascible O.G. of Tuscan cuisine, having risen from the lowly rank of Da Silvano busboy to helm such late-20th-century hot spots as Il Cantinori, Sapore di Mare, Le Madri, and Mad.61 before succumbing to ill-fated business deals, crushing rents, and eventual bankruptcy. Nowadays, his holdings have dwindled to the discreetly tony Morso off Sutton Place. But Luongo is a self-professed restaurant junkie, and this fall, he revives the name that he'd once hoped to turn into a national brand: Coco Pazzo, which means "crazy chef." The original Coco Pazzo operated on East 74th Street from 1990 to 2008, and during its lifespan, the restaurant and its satellites employed chefs like Mark Strausman, ­Cesare Casella, and Anthony Bourdain (who lasted about two months before Luongo fired him). The new Soho iteration is two-pronged: Fast-casual Coco Pazzo Kitchen will dispense quick lunchtime salads, sandwiches, and soups, while dinner-party-style Coco Pazzo Restaurant will emphasize tableside service and old-school hospitality, courtesy of two of Luongo's most veteran lieutenants and his partner in this venture, Alessandro Bandini, a former Da Silvano manager and fellow Tuscan. "He's Florentine," says Luongo. "We kind of speak the same language."
If the Kitchen concept echoes Luongo's shuttered Rockefeller Center marketplace, Tuscan Square, the Restaurant revives Coco Pazzo signatures bistecca alla Fiorentina, the seafood stew called cacciucco, and salt-crusted whole fish like snapper, grouper, bass — "or when we're out of energy, branzino." Luongo is most enthusiastic about his new piatto unico, an Italian meat-and-three of sorts that combines entrée, pasta, salad, legume, vegetable, and grain on a single plate. For dessert: soufflé, a choice that conveys Luongo's desire to make customers feel like they're coming over to his house for dinner. "The only difference," he says, "is you don't leave without paying."
Coco Pazzo Kitchen and Restaurant, 160 Prince St., at Thompson St.; October.
*This article appears in the August 21, 2017, issue of New York Magazine.