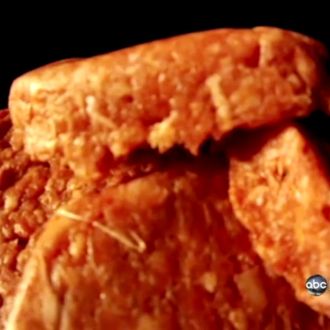 Unappetizing.
Photo: ABC News
In June, it became clear that Beef Products, Inc.'s Draconian $5.7 billion "pink slime" lawsuit wasn't going to bankrupt ABC's news division after all. The two sides settled very rapidly, just three weeks into the South Dakota meat producer's case, and ABC's official statement calling it "an amicable resolution" was conspicuously devoid of an apology or retraction.
But parent company Walt Disney had to release its latest earnings report yesterday, and that means the world finally gets to see what the investigative series (which blasted "lean finely textured beef" as borderline unsafe and scarcely meat by definition) cost them. The grand total seems to be "at least" $177 million.
Disney relegated the disclosure to a small-font footnote on the report, describing a mysterious $177 million loss "in connection with settlement of litigation." There is no denying that's a lot, but the "at least" is because, as CNN Money explains, it's probably not the full amount to which BPI is entitled. In fact, BPI's lawyer says the amount was definitely "worth even more," but wouldn't specify how much beyond calling it "extraordinarily favorable." The extra, whatever it comes to, is presumably being covered by ABC's insurance.
Regardless, $177 million is "historically large" — likely the most ever paid in a media defamation lawsuit. CNN estimates it's on par with a whole year's worth of advertising revenue for World News Tonight. ABC still stands by its reporting, though, and the 2012 report remains as prominent as ever on the ABC News website.