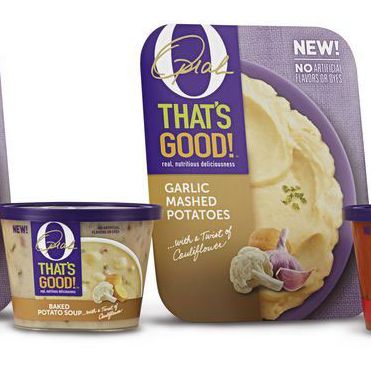 The Oprah Winfrey empire has officially expanded into "healthy" packaged foods.
Last summer, Winfrey's empire applied to trademark a line of food products dubbed "Oprah's Kitchen." The rather ambitious scope of the paperwork styled the venture as basically the next Nestlé or Kraft Heinz — packaged foods, water, baked goods, spices, juices, energy drinks, the whole shebang. The reality is a little less epic, at least to start: Now called "O, That's Good," the line is being produced by Kraft Heinz, a company that's on a new mission to convince skeptical consumers that its packaged foods (Oscar Mayer, Velveeta, Kool-Aid, Cool Whip, and their ilk) can actually be healthy.
The products reportedly go on shelves this week. They're refrigerated "comfort foods," but better for you (the broccoli-cheddar soup has a "touch" of butternut squash, for example, and there are white beans in the Parmesan pasta). The whole idea of putting healthy ingredients into not-so-healthy dishes — which, let's be honest, has been used by parents for generations — came from a failed attempt to stomach cauliflower, Winfrey explains to USA Today:
"I was sitting at my table in my own home and had whipped up some cauliflower, trying to make myself think I was eating mashed potatoes, but it was not working. So I thought, 'What if I used a portion of the mashed potatoes and added the cauliflower? Then, I would have a substantive mashed potato-cauli dish.'"
The eight items — four soups, four pastas or sides — have no artificial ingredients, and 10 percent of the profits go to hunger-relief organizations, so that's nice. The soups should retail for $4.99, and the other items are $4.49.