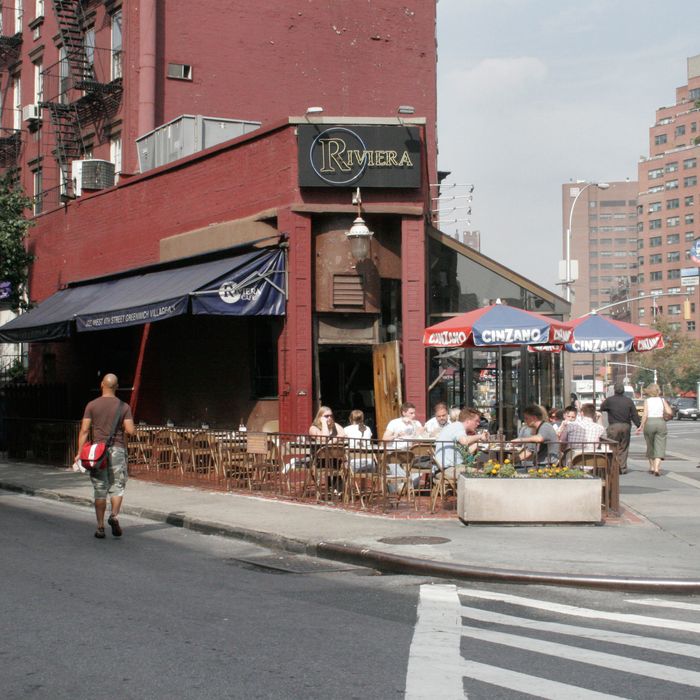 Red Sox fans will have to find another bar.
Photo: Shanna Ravindra
Earlier this week, New York journalist and human institution Michael Musto wrote on his Facebook that the West Village's Riviera Café & Sports Bar will close on August 31. He followed with a few sentences of tribute to the 48-year-old spot, sharing his personal experiences, and adding, "I pray some generic shithole doesn't go up, or worse a high rise."
The news was picked up by Jeremiah's Vanishing New York, who added that it's been a spot for 20th-century hipsters since the '60s, and was where Lou Reed kicked John Cale out of the Velvet Underground. (Making it one of those ordinary, average-looking places that played a small role in a significant moment in the city's cultural history.) It's also a refuge for fans of the New England Patriots and Boston Red Sox, and boasts that Bostonites consider it "their New York embassy." Go Yankees.
The rumors, alas, are true. On September 3, Sox fans will have to find somewhere else to watch Chris Sale duke it out against the Yankees. The restaurant isn't closing because of a rent hike or changing times, though, but simply because, Grub was told, "things come to an end." Which is fair enough; 48 years is a long time for a place to be open, and sometimes places just close.