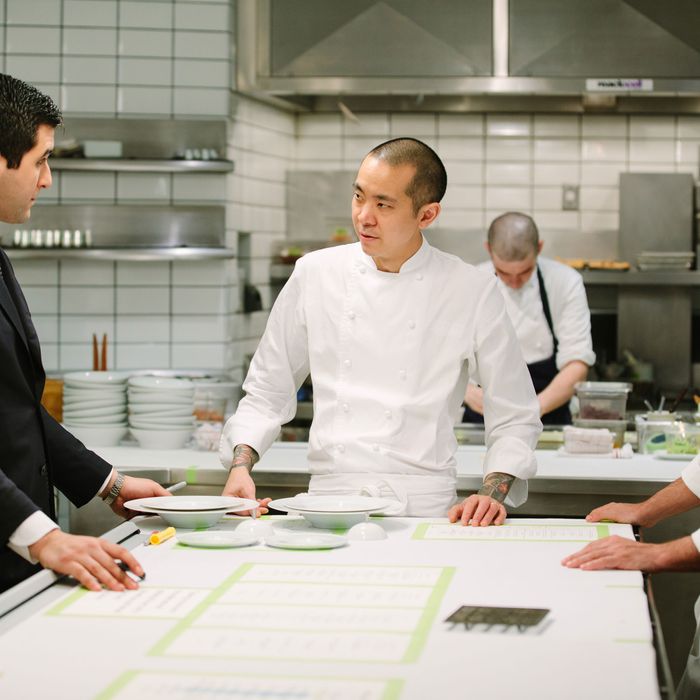 Meet Per Se's new chef de cuisine, Corey Chow.
Photo: David Escalante
The last three years have not been so kind to Thomas Keller's Per Se, the restaurant once considered New York's best example of fine dining. In a December 2014 review, Eater NY critic Ryan Sutton wrote that "the food is now just what you'd expect from a high-end shopping mall." That sentiment was echoed by New York Times critic Pete Wells in 2016, who knocked Per Se down to two stars and called it a "grand, hermetic, self-regarding, ungenerous restaurant." The restaurant also settled a lawsuit over mishandling tips in 2015, and earlier this summer, Keller was criticized for what some called a dismissive response to comments made by Oakland chef Preeti Mistry.
Through this turbulence, however, Keller held tight. But the restaurant will now experience its first major change in quite some time. Eli Kaimeh will step down as chef de cuisine, after 7 years in the position and 13 at the restaurant. Replacing him is Corey Chow, another Kellerite who will take over the role on August 14.
Raised in San Gabriel, California, Chow worked at Alan Wong's in Hawaii before making his way to Per Se in 2007. He's also cooked at two of New York's restaurants of the moment, joining the NoMad in 2013 and later Torrisi Italian Specialties, where he was the chef de cuisine, before returning to Per Se as executive sous-chef in 2015.
Those two restaurants and the ownership groups behind them — Make it Nice and Major Food Group, respectively — have gained relevance while Per Se's has wavered. They're also very popular with young people with lots of expendable income, and the sorts of globe-trotting trophy gourmands a place like Per Se desires. The NoMad's sister restaurant Eleven Madison Park topped the controversial "World's 50 Best Restaurants" list this year, while the Major Food Group took over the space once home to power-lunch pioneer the Four Seasons. The menu format will remain the same, but whether or not Chow will be given the opportunity to inject new life into Per Se, of course, will have to be seen — by those who can afford it.