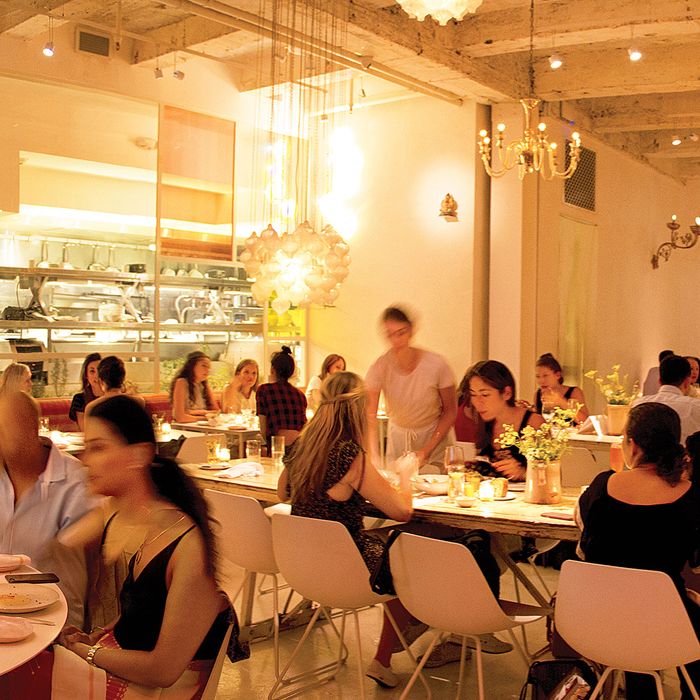 abcV.
Photo: Jemma Hinkly
With its roster of soul-­cleansing juices; its breakfast muffins with uplifting names like "Morning Glory"; and its clean, white, vaguely medicinal décor, Jean-Georges Vongerichten's much-praised new veggie palace abcV looks like it's been almost willfully designed by the great chef to set off alarm bells deep in the heart of even the most modest carnivore. Nearly everything in the open, light-filled space (tables, chairs, wall decorations) is brushed with the kind of pale, soothing colors that you might see in the cafeteria of a first-class rehab facility. The menus are filled with all sorts of ominous-sounding items (steamed broccoli, lettuce cups, restorative tonics containing "ashwagandha," whatever that is), and the friendly wait staff tend to exude the kind of toothy, wide-eyed well-being that you see among the ranks of what the late great carnivore Josh Ozersky used to refer to suspiciously as "the Veggie Army."
But never fear, carnivores. The ranks of the Veggie Army have grown in stature and confidence since Ozersky's time, and Jean-Georges, who spent the early part of his career creating culinary fads (molten-chocolate cake, anyone?), is in the business, these days, of perfecting them. His abcV is not a vegan restaurant (although there are many vegan options on the menu), but if you feel like a helping of gluten-free pancakes in the morning, it has an excellent version with almonds, topped with a puff of banana whipped cream. If you wish to sample state-of-the-art "cold pressed" juices, it has those, too (try the "Root Renewal," spiked with turmeric and ginger, among many other edifying things), along with a decent Martini touched with raw coconut water, and a clean, Jean-Georges-approved version of avocado toast sliced over fresh-baked polenta bread and touched with cumin and lime.
The tomato sandwich at this department-­store café costs $16, it's true, but the heirloom tomatoes are foraged from the famous Greenmarket down the street. The bread is thick slices of sourdough, layered with basil leaves and a faintly spicy tomato-and-olive tapenade that you can complement with dabs of the fine housemade chile sauce, which is set on the table in a tasteful little silver pot. The wontons in the wonton soup I ordered one evening for dinner (now replaced, briefly for tomato season, with a cold tomato-and-miso-tinged soba dish) were stuffed with a mash of savory, vaguely beefy-tasting morel mushrooms, and if Middle Eastern cooking is your particular addiction, you can put together a wholesome feast of labneh (made with shallots and fava beans), hummus (green chickpeas), and puréed pine nuts (speckled with harissa and bits of dried apricot) for roughly what it costs to buy a cut of beef in midtown.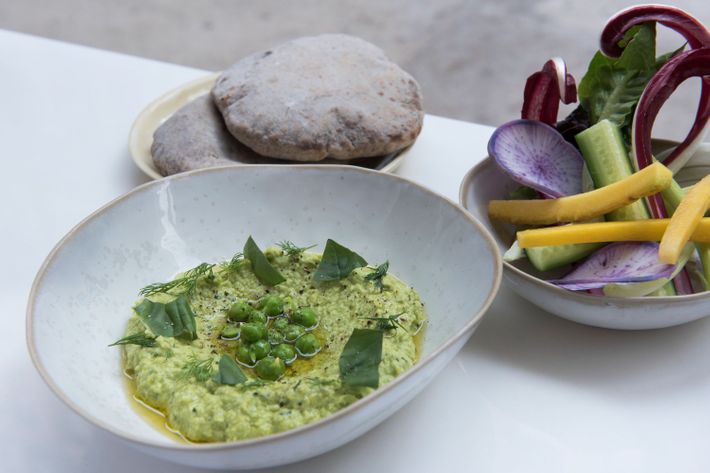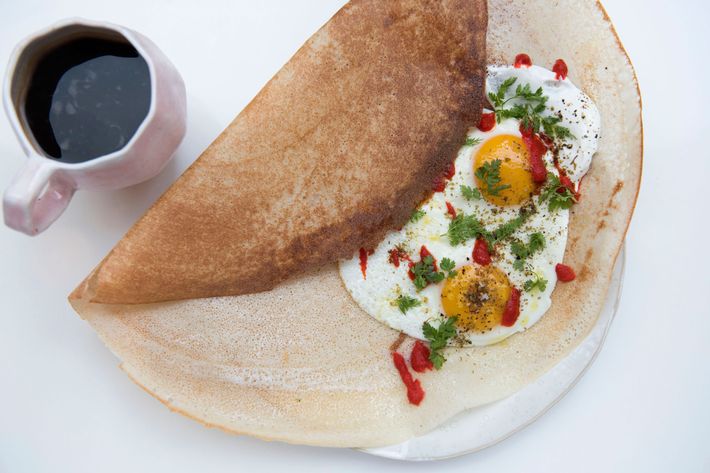 If you grow weary of inventive twirls of spinach-spiked spaghetti (dusted with saffron crumbs) or perfectly steamed spears of broccoli (next to creamy beds of farmer cheese), then go at breakfast, which begins at 8 a.m. sharp and features the kind of elegant morning delicacies that even a bilious, meat-deprived restaurant critic can love. You can get your farm eggs perfectly poached (with a medley of buttery wild mushrooms) or scrambled (with dill and a folding of Rupert cheese), or over easy and nestled (with a seasoning of za'atar and some sautéed Swiss chard) in a great flap of dosa. The much-Instagrammed abcV dosa isn't quite as crispy-fresh as the classic southern-Indian variety, it turns out, but it's a decent vehicle for soft slices of avocado, or maple syrup mingled with gouts of melted butter, and it works just fine as a toast substitute to mop up the yolk.
While perfecting these refined dosas, juices, and sprout recipes, Jean-Georges and his industrious kitchen technicians have also found time to roll out a more familiar kind of meat-and-potatoes operation, called Public Kitchen, on the ground floor of Ian Schrager's new Public hotel on the Lower East Side. The chef is no stranger to hotel restaurants (it's his tenth), and this one seems to be designed as a kind of downtown bookend to his popular Continentally themed restaurant at the Mark hotel uptown. Instead of Grand Marnier soufflés and caviar-topped eggs, however, the specialties here are posh reimaginings of local-terroir favorites like matzo-ball soup (available at a Slow Food takeout counter up front called Louis), Chinatown pot stickers (stuffed with basil and summer corn), and even an elevated version of chopped chicken liver decked with chives and flattened bits of chicken crackling.
Many of these iconic dishes (crisp-edged latkes topped with folds of lox and sour cream, the stacked burger oozing with Russian dressing and frizzled onions, a classic tartufo served on a bed of stewed cherries) might actually be met with gasps of wonder in slightly less random surroundings. But unlike the pink-hued, resolutely Upper East Side space at the Mark, the large, modish room here feels like it's landed in this most local of all New York dining neighborhoods from some generic, vacantly glitzy precinct of Vegas or L.A. The flat, toneless atmosphere takes a toll on the professionally executed cooking — and as the bouncy, "downtown" tunes (hello, Madonna) loop endlessly on the house soundtrack, dinner feels less like a satisfying, carefully composed meal than a grab bag of neatly executed parlor tricks.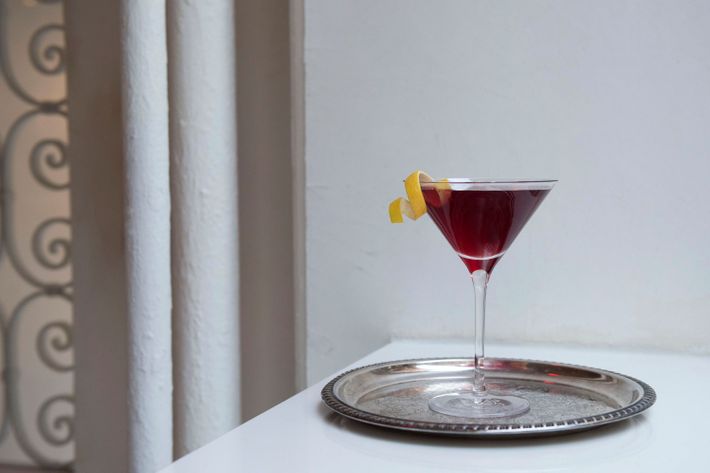 abcV
38 E. 19th St., nr. Broadway; 212-475-5829; abchome.com
Open: Breakfast, lunch, dinner, and brunch.
Prices: $8 to $35.
Ideal Meal: Pine nut and lemon with harissa, wonton soup (dinner), tomato sandwich (lunch), dosa with Swiss chard, egg and za'atar (breakfast).
Note: The $58 tasting option is one of the better deals in this omakase-ridden town.
Scratchpad: One star for the inventive veggie cooking and another for one of the best new breakfast menus in town.
Public Kitchen
215 Chrystie St., nr. Stanton St.; 212-735-6000; publichotels.com
Open: Breakfast, lunch, dinner, and brunch.
Prices: Appetizers, $8 to $22; entrées, $17 to $39.
Ideal Meal: Chopped chicken liver, three-cheese pizza, lobster with corn, tartufo.
Note: If the smoked beef rib is on the menu, order it.
Scratchpad: Two stars for technique, minus a star for the grab-bag menu and generic setting.
*This article appears in the September 4, 2017, issue of New York Magazine.