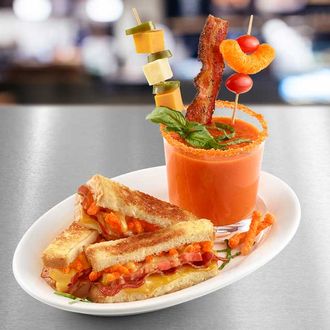 The Cheetos grilled cheese and tomato soup.
Today's the day the Spotted Cheetah opens inside a Tribeca bar. There's some bad news, though, if you expected to go knock down some mac and Flamin' Hot Cheetos for lunch (either jokingly or for real) — you better stop by the corner bodega first. Not only is the pop-up fully booked, but The Wall Street Journal reports that the wait list has climbed past 1,000 people.
The folks at Pepsi's Frito-Lay division aren't expert restaurateurs, granted, but they can definitely monitor reservations on an OpenTable listing. They say that all of the seats available for today, tomorrow, and Thursday — a total of around 300 — disappeared within six hours of the announcement last week. Even the company's marketing team can't believe it, calling their success "a surprise to us in a big way."
The OpenTable early birds will get about a dozen Cheetos-themed items ranging in price from $8 to $22. Meatballs, a grilled cheese sandwich with tomato soup, tomatoes fried in a sort of Cheetos-y panko, and Sweetos-crusted cheesecake round out the menu, which is the work of chef Anne Burrell. She says her instructions were to "elevate" Cheetos without going totally crazy. (That was apparently "a fine line to walk.")
If looking slightly desperate is of no concern, then you can still join the electric-orange corn-puff-maker's wait list that's more than three-people deep for every seat. (Almost as bad as Noma Australia! The ten-week pop-up last year accumulated a 27,000-person wait list for 5,600 seats.) The company adds that "Cheetos connoisseurs" do have another option as well: A digital cookbook is being posted on the Spotted Cheetah's website later today, and it's free to download.