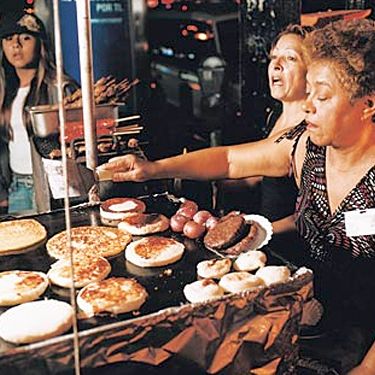 Thanks for all the arepas.
The Arepa Lady started as a street cart in Jackson Heights, becoming a destination for Colombian food in the '90s before opening its first storefront in 2014. Over time, she became something of a legend in New York food-geek circles. Unfortunately, it appears she has quietly bowed out. Her son Alejandro Osorio confirms that, after 30 years, the Arepa Lady herself hasn't cooked for the crowds since last year.
Osorio tells Grub that she renewed her license, but "hasn't worked the cart because she's been too tired." Asked if she was done for good, Osorio responded, "I hope so. She deserves to just relax now." Judging by Maria Cano's life story, in which she inspiringly remade herself, that sounds right. She was a judge in Medellín before the escalating drug war caused her to flee to New York in the '80s for the sake of her children's safety. She restarted her life here, finding a new vocation, and building a business for her children. It's too bad for New Yorkers who loved her cooking, but it did appear that, in recent years, she had taken a step back, so this isn't coming entirely out of the blue.
Unfortunately, this isn't the only bad news for the arepa clan. Cano and her family will have to close their first brick-and-mortar shop, news they posted to the Arepa Lady Twitter account. According to that message, permits to tear down the restaurant's building were approved, and they'll have to go within the next six months. Still, Arepa Lady the business lives on. Cano's apparent retirement and the fact that permits to tear down the restaurant's building were filed back in December 2016 convinced the arepa clan to open a stand in the fancy Brooklyn food court DeKalb Market Hall. And Osorio does confirm that they're looking for a new location in Queens.