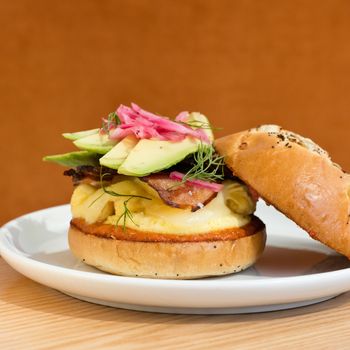 Golda's egg sandwich with muhammara, kashkaval, "sumac'd" onion, and dill.
Photo: Melissa Hom
The thinking goes that ambitious chefs tend to bypass breakfast in order to focus their creative energy — and budgets — on lunch and dinner service, where they have more freedom to offer original dishes. (Nobody's in the mood for culinary ingenuity at 8 a.m. on a Tuesday.) That seems to be changing, however, as more chefs and owners embrace the all-day-café model, kicking off with breakfast service and moving right through dinner. Customers, in turn, are responding, and these new cafés are among the most interesting places to eat. It's a development that's been driven as much by changing tastes as it is by owners who are looking for new solutions to familiar problems like increased competition and punishing costs.
Right now, it feels like chefs and operators are swarming into the space: Since February alone, all-day cafés have been opened by Jean-Georges Vongerichten (abcV), Claus Meyer and Fredrik Berselius (Norman), Gabriel Stulman (Fairfax), Enrique Olvera and Daniela Soto-Innes (Atla), Vinegar Hill House's Sam Buffa and Jean Adamson (VHH Foods), and April Bloomfield and Ken Friedman (White Gold, which also doubles as a butcher shop). They're the biggest names, but they're hardly alone.
Danny Nusbaum, who owns brand-new Golda in Clinton Hill and grew up in his family's bagel business, says he saw an opening for a creative breakfast destination. "I just know there aren't too many options," he explains. "There are diners, the bagel store, the bodega, the guy with the cart — what else?" Nusbaum, along with chef Ryan Wythe and pastry chef Charmaine McFarlane, serves dishes like egg sandwiches with the Middle Eastern pepper-walnut purée muhammara, along with pastries such as sweet-potato galettes.
Stulman, meanwhile, says he decided to reframe Perla as the all-day café Fairfax because the former concept — a casual-but-refined Italian spot — faced increased competition from restaurants like Charlie Bird and Dell'anima, which offered similar experiences. In Fairfax, Stulman has put together a restaurant that feels something like a wine bar with the soul of a coffee shop.
Of course, restaurateurs who are used to charging $25 or $30 for dinner entrées have to adjust to the reality of selling tea and pastries. "Wealth is definitely not in selling eggs and coffee," Stulman says, who has opened several all-day restaurants in the West Village over the last eight years. The trick is balancing lower check averages with the same cost of doing business. "All of my expenses are the same at dinner as during the daytime," Stulman concedes. "I just make less money."
At Atla, managing partner Santiago Gomez says check averages hover around $40 (at Cosme, Atla's fine-dining sister restaurant, that average is closer to $90). The difference, though, is that customers are in the café all day long, and Gomez says that steady stream of business is a boon. Ryan Wythe, the chef at Golda, echoes this sentiment. Even if a restaurant doesn't make as much money per diner, it's better than making no money at all until 6 p.m. "Instead of getting here at 10 a.m. to prep for dinner, we'll be prepping throughout the day and open for service and cooking for those people during that time."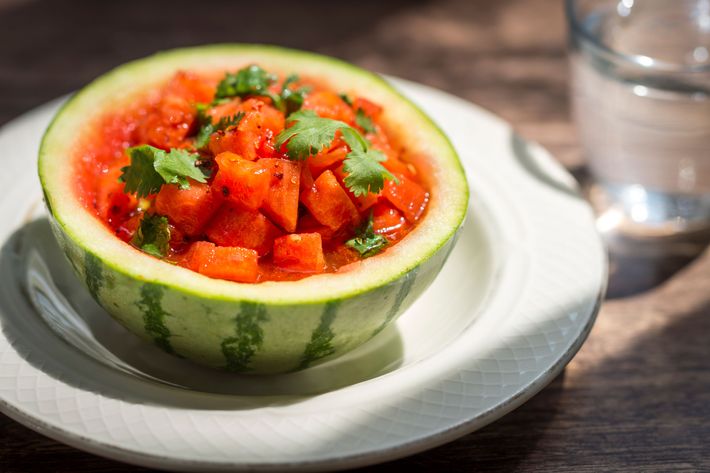 "It's just more ways to bring in money from a business standpoint," says Jen LaPorta, who along with partner Megan Johnson recently opened Hudson Jane, a café and wine bar on the border of Fort Greene and Clinton Hill. "We really wanted to offer more to our guests, and that in turn brings in more revenue to us."
Johnson also points to a surprising way the all-day model helps with costs: She has more opportunities to use the same ingredient throughout the day, which means her menus remain diverse, but she can buy in greater bulk. They can buy one big block of cheddar, instead of four smaller wheels, getting a better price from purveyors. Johnson makes a point to use it in several dishes, instead of using different cheeses for each, and says this helps her avoid waste. "Delivery minimums are so high now that for a small place, they're almost impossible to meet," she says. As a chef, you want to be able to vary your ingredients, but if you constantly have to meet a $500 minimum, that's not even possible. You are a slave to making that minimum."
For customers, the appeal of a spot like Hudson Jane or Atla is obvious: You can drop in whenever you want and have a meal that costs less than it would at a fine-dining restaurant (say, Cosme), even though the food and service are held to a similar standard. The owners Grub spoke to all said that flexibility also helps them create a sense of community in their restaurants. Stulman says he modeled Fairfax in part after a European wine bar, and the comparison feels apt: small places where everyone can go to relax without worrying about reservations or high-priced entrées. By serving more people throughout the day, owners may not have unlocked some secret to success and wealth, but they can make enough money to keep feeding people.