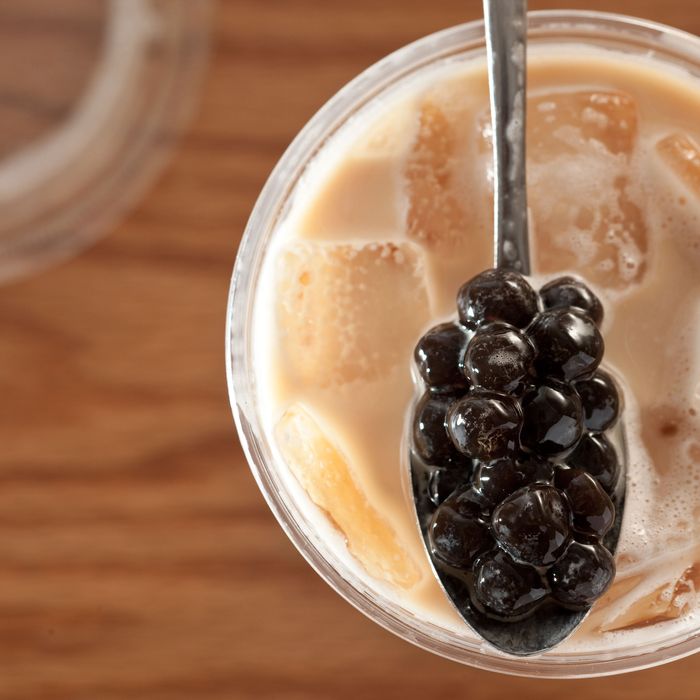 Bubble tea from Boba Guys, a San Francisco and New York mini-chain.
Photo: Melissa Hom
On Wednesday, the New York Times' business section published an article about boba or bubble tea that was head-scratchingly clueless and out of touch. The original headline — "The Blobs in Your Tea? They're Supposed to Be There" — referred to the drink's namesake tapioca pearls as "blobs," treating their presence with the vapid breathlessness of an Insider Food video. By the end of Thursday, the response was so critical that the Times released an editor's note addressing the article.
In that lukewarm note, business editor Ellen Pollock recognized the criticisms, including that "the article read as though we had just discovered bubble tea," and that the drink was characterized "as strange and alien." Citing one reader's comment, who called out the use of language like "Far East," Pollock expresses regret and admits that they should have tackled the subject differently — or maybe not all.
This wasn't the Times' only response. First, it quietly changed the headline on Thursday morning. The blob reference was removed, and instead the drink was called a "niche favorite" — problematic in its own way, not to mention inaccurate. It's not a niche, but a drink enjoyed by millions and millions of people in East and Southeast Asia, the United States, Australia, and other parts of the world. The headline was then changed a third time to something more innocuous. Finally, the text was substantially edited, to the effect that whole paragraphs, and in some cases strings of paragraphs, were deleted.
In the article, author Joanne Kaufman classifies the drink as exotic, describes it as having "washed ashore a few years back," and seems oblivious to its existence. As many others pointed out, bubble tea has been very popular in the United States for about … two decades now. One Twitter user says it was the "new thing in Flushing," home to one of New York's Chinatowns, in the early 2000s, and it's been served in Los Angeles since the 1990s. It's something people go out for, like ice cream, and long available not just in New York and Los Angeles, but in Minnesota's Mall of America, Michigan, Iowa, Missouri, Montana, Oklahoma City, Connecticut — you know, all over the country. In fact, the Times dining section itself published an article in December called "Bubble Tea? So 2002. A Sampling of Food-Trend Predictions."
If you're thinking it's just bubble tea, it's not. The response was about cultural representation, and the far too common newsroom environment that incubates something this clueless. This sentiment was summed up by Los Angeles Times writer Frank Shyong, who tweeted that it's "exactly why we need diverse newsrooms." The same sort of thinking affects coverage of other subjects, not just drinks.