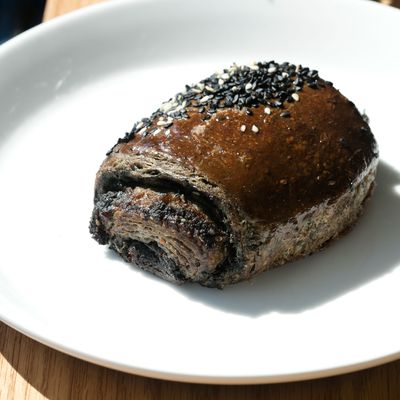 Golda's black-sesame danish.
Photo: Melissa Hom
Lately, New York has seen an impressive number of all-day cafés open. One welcome effect of this: lots of pastries and other baked goods that go beyond the usual (and outsourced) almond croissant. Chefs who have set their sights on breakfast are turning out creative takes on danishes, and simply just making better versions of classics. Here, 12 new ones to check out.
Black Sesame Danish
Where: Golda
Price: $4.75
The new all-day café is a cozy 750 square feet, but they still found room for a pastry chef who is spinning out an impressive (and impressively tasty) variety of creative baked goods. These include a striking and unusual danish topped with black-sesame seeds and charred-eggplant jam that's just a shade sweet.
Strawberry Éclair
Where: Louis
Price: $6
The menu at the Public Hotel's takeout café is eclectic, but the éclairs keep it classic with a strawberry filling.
Beef Fat Doughnuts
Where: White Gold
Price: $2
Somebody alert Malcolm Gladwell: They're now frying doughnuts in beef fat up at April Bloomfield's butcher shop and restaurant, and flavoring them with nutmeg, lemon zest, crème fraîche, and sugar. (Yes, they're not baked, but let's make an exception for beef-fat doughnuts, no?)
Raspberry Almond Coffee Cake
Where: Fairfax
Price: $5
With its coffee tables and sofas, Gabe Stulman's newest all-day restaurant practically feels like a living room. Where better to drink your coffee with a side of coffee cake, here made with raspberry and almond?
Chocolate-Smoked Ricotta Bread
Where: VHH Foods
Price: $4.50
A very good recipe for breakfast: Posting up at one of the outdoor tables at this café near the Brooklyn Bridge, and alternating between views of the city and bites of this bread, made with the not-too-sweet combination of chocolate and smoked ricotta.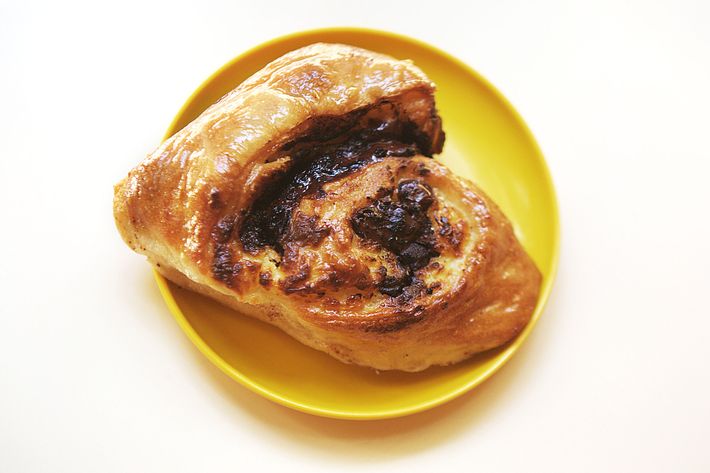 Palmiers
Where: Corner Slice
Price: $3.25
Pizza by the slice is this Gotham Market West stand's raison d'être, but it also makes some fine baked goods. A recent addition are the weekends-only palmiers, made with 50 percent whole-wheat dough laminated in-house, as well as an almond cake (available daily) with blueberries.
Ham and Brie Croissant
Where: Hudson Jane
Price: $6
If you're in the mood for something savory, this charming Fort Greene restaurant's rotating selection of pastries includes a ham-and-Brie croissant.
Pistachio Morning Bun
Where: Loring Place
Price: $5
This Franco-American hybrid, a Boulanger's laminated dough wrapped in a food-court cinnamon roll, is a 20th-century classic. It's a natural fit for the menu at noted Hostess-cupcake fan Dan Kluger's downtown spot, where they're served during brunch.
Smoked Cream Cheese and Gooseberry Spandauer
Where: Norman
Price: $4.75
At the Greenpoint all-day café, they serve spandauer (which is Danish for danish), made with cream cheese cut with the sour fruit gooseberry.
Blueberry-Almond Loaf
Where: Sunday in Brooklyn
Price: $4
Get your summer berries while you still can at the Williamsburg brunch spot, where they're serving a special blueberry-almond loaf. Soon it will pumpkin-bread season.
Blueberry-Nectarine Pie
Where: Daily Provisions
Price: $8
Danny Meyer's café makes some very fine crullers, and it recently introduced a very summery blueberry-and-nectarine pie.
Black and White Tart
Where: Quality Eats
Price: $10
It's not available during the morning, but the new uptown location of the neo-steakhouse offers an updated take on New York's classic black-and-white cookie, using it to top a chocolate-almond tart that's filled with cookies-and-cream ganache.