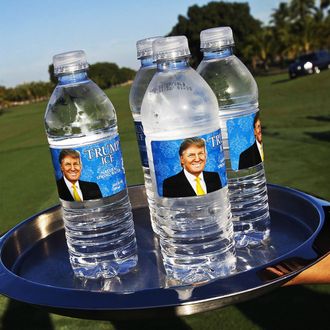 Headed soon to a national park near you?
Photo: Patrick Farrell/Miami Herald via Getty Images
The Trump administration has proudly announced that parched hikers can finally buy bottled water again at all of America's national parks. The National Park Service said Wednesday that, effective immediately, it was ending a six-year-old ban on the sale of plastic water bottles. The policy was enacted under Obama after studies showed water bottles were among the worst sources of litter in forests and lakes. The ban was also optional — only 23 of the country's 417 national parks had implemented the policy so far, although they included some of the most popular sites (like Mount Rushmore, Zion National Park, and the Grand Canyon, where Park Service officials estimate almost 20 percent of the waste is just empty water bottles). Now, 23 extra sets of national park gift shops and parking-lot vending machines will again flow with overpriced, sorta cold water.
It's worth noting the industry's primary complaint wasn't necessarily illegitimate: They felt the ban unfairly let sodas and energy drinks off the hook. Lobbyists argued it made no sense to outlaw pure water, but allow sugary drinks sold in bottles that are often even more horribly enviro-unfriendly. In a statement to the AP, an International Bottled Water Association spokesperson basically cast it as a fight to prevent outdoorsy Americans from staying hydrated, calling the policy "seriously flawed," since drinking water "should always be encouraged" in any and every form.
The move sure doesn't hurt thirsty day hikers who forget their CamelBaks or Nalgene bottles, but the biggest winner is probably still the water industry. The reversal comes literally weeks after David Bernhardt got confirmed as deputy secretary of the Interior Department; Democrats called him a "walking conflict of interest" because — guess what? — his lobby firm worked for Nestlé Waters, one of the country's biggest distributors of bottled water. At least if the reversal moves more water, maybe Nestlé will stop trying to foist its LaCroix knockoff, Pure Life Exotics, on Americans?
Update: A rep from Nestlé Waters says the Washington Post's claim about the deputy Interior secretary lobbying for the company is "categorically false." The story's reporter, Darryl Fears, clarified in a tweet this afternoon that while Bernhardt's old legal firm (Brownstein Hyatt Farber Schreck) has represented Nestlé, the deputy "didn't rep the company himself." Brownstein also adds it only handled Nestlé's legal matters, nothing related to lobbying.