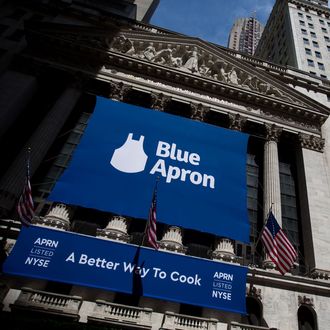 Special delivery: lawsuits.
Photo: Michael Nagle/Bloomberg via Getty Images
Blue Apron executives aren't the only ones wanting a do-over after the meal-kit company's disastrous IPO. Some investors want their part of the $300 million they threw at it back as well, and they've brought in attorneys to see if anything can be done about that. Big law firms are behind not just one class-action lawsuit but at least four that allege the start-up tricked shareholders by putting "misleading" and "untrue statements" in its SEC filing before going public. Aggrieved shareholders can seek representation from an alphabet soup of lawyerly names: Here's a press release announcing Bragar, Eagel & Squire's lawsuit, another by Bottini & Bottini, yet another from Rosen Law Firm, and the actual filing for Carella, Byrne, Cecchi, Olstein, Brody & Agnello's case.
All of them make near-identical claims. For instance, the filing by Carella names the IPO's underwriters, too (Goldman Sachs, Morgan Stanley, and several other large financial institutions), and the proposed group of plaintiffs is everybody who bought Class A common stock. The suit argues that Blue Apron hid that it was struggling to deliver meals on time and also with all of the recipes' necessary ingredients (which could certainly explain why so many customers bail in less than six months). Also, that Blue Apron's brand-new New Jersey factory wasn't exactly running seamlessly, and that these glitches were going to delay future product rollouts. And finally, that executives had decided to slash the ad budget without telling anyone — a move the suit argues could hurt immediate sales.
It's not unusual for angry investors to file so-called stock-drop suits when a company's shares plummet. To win in court, they have to prove the company made false statements, and that's why they bought stock. As far as IPOs go, Blue Apron's was especially lackluster: Stock prices began at $10, and fell to half of that. But the company has made glancing reference to some risks shareholders would be undertaking. It noted the exceptionally bad timing of Amazon's Whole Foods deal prior to the IPO launch, and also acknowledged that its New Jersey factory had issues. Although, unfortunately, executives waited until the first earnings call to do that, more than a month after the IPO.