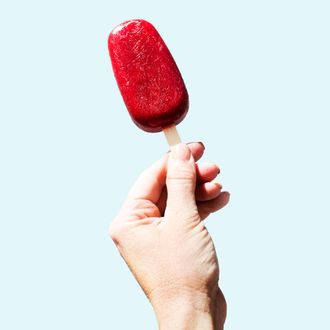 An ideal way to end summer.
Photo: Melissa Hom
Labor Day is looming, and it won't be long before pumpkin spice is in the air. Before that happens, however, there are some things you need to eat and drink: A BLT made with juicy tomatoes; a gin-and-tonic on whatever porch you can find; some perfectly grilled burgers. And here's one more thing to add to the list: The strawberry Popsicles ($4) sold by Rick Bishop's Mountain Sweet Berry Farm at the Union Square farmers' market, which should be as synonymous with New York summers as Italian ice or magic-shelled swirls of soft serve.
Local strawberries are the poster child of summer-only fruit, and there are none like Bishop's immaculately sweet, fragrant tri-stars, which are the exact berries his farm uses in these pops. They're puréed with a bit of lemon and cane sugar, helping amp up the berries' natural sweetness and acidity. There's no added water, meaning the texture is less like the ice pops of your youth, and more like super-chilled berries. They are, in other words, the ultimate expression of a fruit that's been picked and prepared at the exact right time — offering an experience that can't be re-created in, say, October. (Unless you horde up, get them to your apartment unmelted, throw them in your own freezer, and can somehow resist eating them until the fall. They're sold in plastic packaging, so they'll be safe.)
To that end, August's days are numbered, and so are Bishop's Popsicles. Mountain Sweet Berry Farm sets up at the market on Wednesday and Saturdays, so make a point to get there — with a cooler in tow if you're a frozen-sweets superfan — and try them before it's too late.