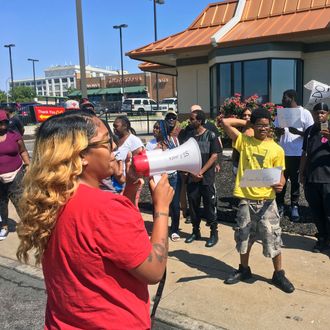 A "Save the Raise" protest outside a St. Louis McDonald's.
Photo: Jim Salter/AP
This week, St. Louis became the first major American city to move its minimum wage down, from $10 an hour to $7.70. Earlier this year, Missouri's Republican-controlled statehouse passed a so-called preemption law intended to stymie local governments that seek to raise wages. It went into effect Monday, reducing hourly pay for as many as 35,000 of the city's workers.
Somewhat cruelly, the $10 wage hike rolled out back in March about five months ago. And this was after a years-long delay: St. Louis initially passed the ordinance in 2015. GOP state lawmakers and Big Business pounced on it immediately, arguing it'd ultimately hurt workers in the state's second biggest city, mostly by stifling job growth (an argument some recent studies support). A legal battle ended with Missouri's highest court saying that St. Louis's pay raise was fine. Lawmakers responded by drafting a measure that neutralized the wage hike. They'd hoped to enact this before literally all of St. Louis was making a minimum of $10 an hour — another $2,400 a year for the lowest-wage earners — but that didn't happen in time. Wages increased as planned … until yesterday, when the new law returned them to $7.70.
Of course, businesses in St. Louis can still pay workers as much per hour as they want. A campaign called "Save the Raise" is urging them to keep the $10 hourly rate despite the new law, and the L.A. Times reports more than 100 business owners have agreed so far, including one local restaurateur who tells the paper it's "morally important" to pay his 90 workers a living wage. A McDonald's worker told the Times the extra money would finally allow him to get his own place and buy "simple things" for his kids.
But none of the big chains have signed on yet. In fact, from what workers tell the Times, McDonald's already took wages back down to $7.70, and Taco Bell still hasn't responded to questions about plans for the city's 20 locations. These chains — especially McDonald's, the company most often targeted by labor group Fight for $15 — usually claim their franchisees can't afford to pay higher hourly rates, but the notion that a living wage ruins large corporations has lost credibility in recent years. Target, which employs more than 300,000 workers, has been paying at least $10 an hour for over a year, and even Walmart, not a company known for its terrific pay structure, claims its "average" full-time rate is now $13.38 an hour.