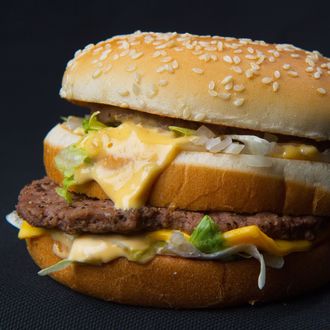 May soon be "medically important" drug-free.
Photo: Paul J. Richards/AFP/Getty Images
Experts warn that antibiotic-free beef probably isn't in fast food's immediate future, but Mickey D's says it's "working on" a plan to figure out how it can be done. The chain announced yesterday that it's removing antibiotics from all its chicken worldwide (only America's gets that treatment right now), and is in the middle of developing similar policies for beef, pork, dairy cows, and egg-laying hens. That pretty much covers all the animal bases, and would be a radical move for such a large buyer of meat products. It's the country's largest purchaser of beef and among the largest for pork.
Health activists have been urging Big Food to quit injecting human antibiotics into meat for years (to the point of staging a shareholder's revolt against McDonald's and publicly shaming In-N-Out), but the problem doesn't have an easy solution. Cows live a lot longer on feedlots than birds do in chicken houses — that's more opportunity for them to get sick and require antibiotics. Also, McDonald's U.S. chicken comes from just two behemoth suppliers, so going antibiotics-free was logistically pretty straightforward. But it buys beef from thousands of individual ranchers.
The Chicago Tribune reports that the chain told consumer watchdogs earlier this month that it "hopes to have a timeline soon for reducing medically important antibiotics from its beef." Per the story, it plans to initially focus on beef sourced from ten countries, which account for about 85 percent of its supply.
McDonald's has actually been working to reduce its role in creating mutant strains of superbugs for a decade and a half now. Yesterday's announcement also noted a more immediate milestone: removal of a group of antibiotics called HPCIAs (or highest priority critically important antimicrobials) from all broiler chickens used in Europe, Brazil, Canada, Japan, and South Korea. That will happen in January of 2018, then by the end of 2019 for Australia and Russia. Suppliers in the other roughly 100 countries where McDonald's operates will have until 2027 to comply.