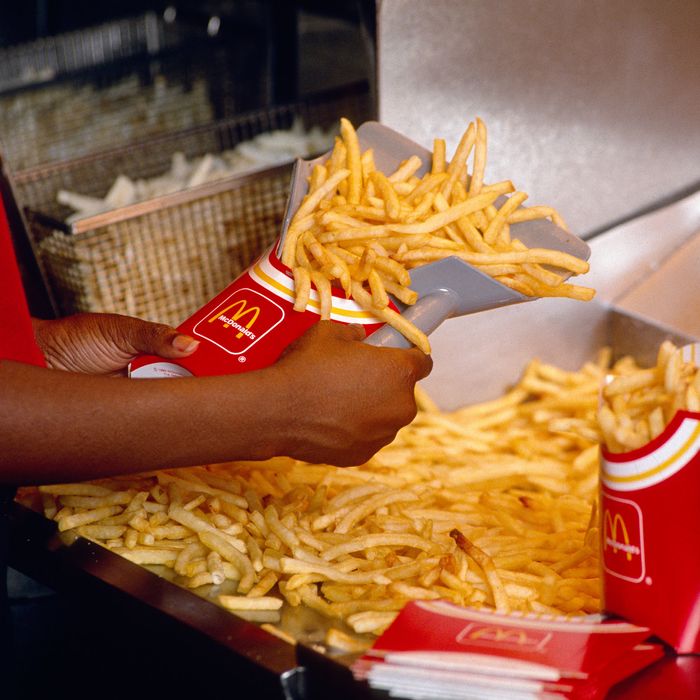 The old-school fries.
Photo: Ralf-Finn Hestoft/Corbis via Getty Images
Malcolm Gladwell's latest contrarian position could go over worse than the time he defended Lance Armstrong's doping: McDonald's fries suck, he declares on the latest episode of his Revisionist History podcast.
Before you rush out and declare him un-American, though, realize he means well. Gladwell opens the podcast by telling listeners that "McDonald's betrayed me so many years ago" when it stopped frying potatoes in beef tallow, so his ultimate goal is to help the fries return to their former glory. But his personal vendetta is woven into the far more interesting story of Phil Sokolof, the drywall magnate who spent millions crusading against saturated fat and cholesterol, and convinced McDonald's to swap the beef fat for vegetable oil.
Gladwell talks about how, at Sokolof's insistence, the chain moved to a canola-corn-soy oil mix on July 23, 1990, the day McDonald's "changed the recipe of their fries forever, and turned their backs on everything I once held dear." He argues texture and taste suffered, and to prove there's general consensus about this, Gladwell interviews people his age who get nostalgic about the old fries, then feeds a facsimile of them to millennials who are too young to have tried the pre-1990 version. They all agree he's right.
In typical Gladwellian style, the podcast goes to great lengths to explain the dire consequences of McDonald's switch: Fryers started spewing a mist that left McDonald's chairs and tables sticky; workers' protective overalls had the propensity to spontaneously combust; the new oil contained a mixture of scary-sounding, possibly unsafe compounds (carboxylic acids, aldehydes, and whatnot).
Yet Gladwell's goal is a noble one: This is really just to get his beef-fat fries back. His parents didn't let him eat fast food, so he didn't try McDonald's fries until he was 13. "Have you ever seen a puppy encounter snow for the first time? He burrows his nose into it with this look of perplexity and sheer delight because he can't understand where this white thing came from," he says. "It was like that for me."
McDonald's, please just do the guy a solid and mail him an old Super Size box of beef-tallow fries Rick and Morty–style.