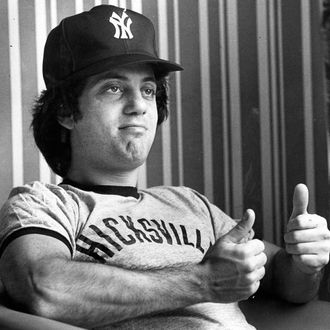 Rock on.
Photo: Tom Allen/The Washington Post/Getty Images
The only thing that could make this bit of news more Long Island is a plate of pickled-banana-peppers parmigiana. A restaurant and lounge named for Billy Joel's song "Vienna" will open in the town of Roslyn this October. Per Newsday, the restaurant's owner, Matt Prince, says, "I want this place to be a fun spot," a reminder that nothing is more fun a family party where your sauced uncle plays "Piano Man" for the fourth time in a night.
Prince, a former restaurateur getting back in the game, wants the upstairs area to have a party-for-adults vibe, and says he'll have DJs three nights a week playing music from the '80s, '90s, and aughts. It is worth noting that Joel released albums during this time period, with his last recorded original material unleashed in 2001. So, will Vienna (the restaurant) have an all Billy Joel, all the time soundtrack? Grub has some other questions. Will the DJs be required to end each night with "Scenes From an Italian Restaurant"? Prince says the food will be "fantastic," but will the menu be inspired by Joel's albums? No one knows just yet.