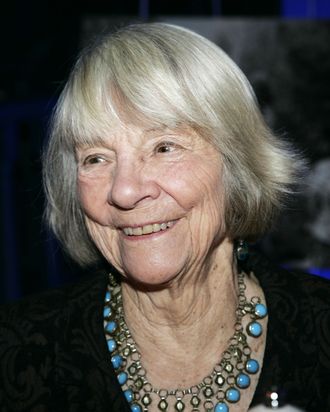 Judith Jones.
Photo: Brian Ach/WireImage
Last night, editor and writer Judith Jones died at age 93, reports New York Times food correspondent Kim Severson. Though she's perhaps most famous for rescuing Anne Frank: The Diary of a Young Girl from the reject pile, Jones, simply, shaped the way that Americans cook. She published Julia Child's Mastering the Art of French Cooking, and worked with Child on every subsequent title. Jones also edited Lidia Bastianich, James Beard, Marcella Hazan, Madhur Jaffrey, Edna Lewis, Joan Nathan, Jacques Pépin, and Claudia Roden (among many other brilliant writers), helping to bring exotic cuisines and ingredients to an American audience.
Jones also published several of her own cookbooks and memoirs, including the beloved The Pleasures of Cooking for One, and most recently, Love Me, Feed Me: Sharing With Your Dog the Everyday Good Food You Cook and Enjoy. She won the James Beard Foundation's Who's Who of Food & Beverage Award, as well as the Foundation Lifetime Achievement Award.
Two years ago, Jones gave a reflective and revealing interview to Charlotte Druckman. It's certainly worth reading (or rereading) in full, but here are a few excerpts:
For a long time, the women — and they were usually women — who wrote about food were treated as second-class citizens. All because they cook! I think that's opened up. A good writer gets some good assignments, and they're treated better somehow. It just takes time.

Things happen in life. Julia once said to me, and I've quoted her on this, "Judith! We were born at the right time." And I said, "Yes, Julia, but we had to act on it." And she said, "Right you are!"

To me, cooking is an art form, and like any art form, you first have to learn the fundamentals. And then, once they're there, once they're just part of you, and you get up and do a little dance or something, you don't follow somebody else's formula. You can take off on your own, and you learn through doing. Then you can let go of some of these strict rules, and make your own rules. I don't even think level measurements are such a big deal these days.
And here are a few thoughts from food writers about Jones's legacy: