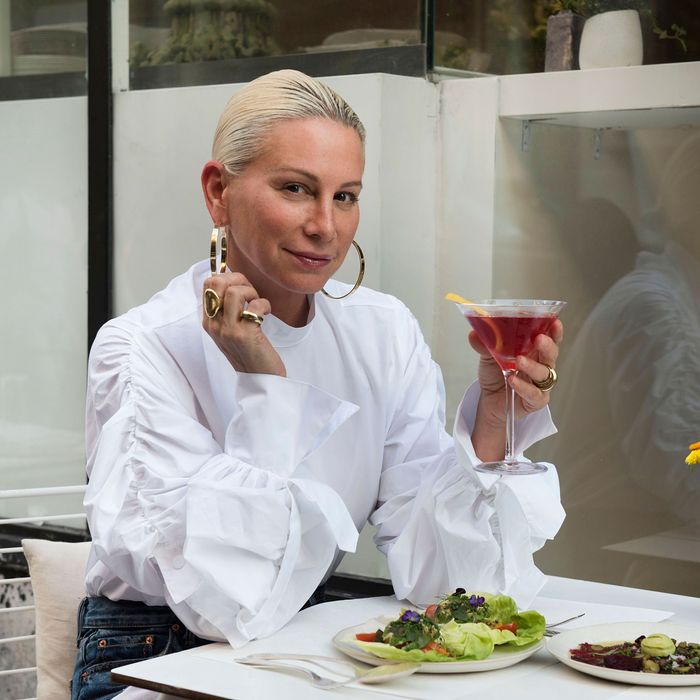 At abcV, one her mainstays.
Photo: Liz Clayman
"I want to be the Paul Newman of the fashion world," jokes Jennifer Fisher the jewelry designer — Barneys and Net-a-Porter carry her architectural pieces — who's now set on conquering the condiment industry. Fisher, a skilled home cook, started making her own seasoned salts and gifting them to editors. When it became "this crazy phenomenon" on Instagram, she launched a spinoff business, and as of this month, Fisher sells two salts, with plans to expand into hot sauces and salad dressings. This week, while vacationing in the Hamptons, she created a build-your-own-burger bar for her family, and ate lots of local corn. Read all about it in this week's Grub Street Diet.
Thursday, August 17
Every morning, I wake up to my daily coffee-with-almond-milk delivery from my husband, Kevin. I stick to Califia's barista blend or New Barn's barista almond milk, or my favorite Nespresso Lungo Coffees. This will be the first of approximately two to three per day. Afterward, I always take my vitamins.
I'm a huge-breakfast person. I wake up starving every morning and am genuinely excited to eat a huge breakfast. It's my favorite meal of the day, partially because I eat whatever I want, and also because some days, it's the only meal I get to actually cook for myself, so I know exactly what is going into it.
Today, it was two organic eggs scrambled with a ton of chopped fresh dill. Right now, I'm in the city, so they were Vital Farms' pasture-raised eggs. Sometimes, I'm lucky and my friends Wes Gordon and Paul Arnhold will drop eggs from their farm in Connecticut, Thistledown Farm. I used to have my eggs delivered from Laura Ferrara's farm every Monday morning, but sadly, that service has been discontinued. There is nothing like farm-fresh eggs.
I normally have a piece of gluten-free toast with breakfast. My favorite is Whole Foods 365 Prairie Bread (found in the frozen section) — it has the closest resemblance to a seeded multigrain bread with a lighter base. Today, it was toasted well and topped with Kite Hill chive cream cheese and avocado, and a dash of my JF Universal Salt that I created and started to sell this year on our website.
Lunch at work is normally a family affair, and we eat together depending on the day. Wednesday is "Family Lunch," where we all vote on what kind of cuisine and where to order from. Favorites include: Rubirosa pizza, Edo sushi, and Eva's Health Food. Today, I packed for my trip to Amagansett (we rented a friend's house for the last two weeks of the summer), cleaned out my kids' camp bags, and organized while our house in the city is under renovations. I ran by Bliss Bowl to grab one of my favorite to-go meals: a make-your-own organic-brown-rice bowl with egg, tofu, and a ton of veggies with their spicy gochujang sauce.
Given that we were moving to Amagansett the following day for the summer, I picked up Dirty Bird for dinner. They make the best organic rotisserie chicken, and everyone in my family likes different parts, so it's perfect. My daughter, Drew, is a drumsticks and dark-meat girl, while my son, Shane, and Kevin are breast guys. I love the wings, and being the mom, I get whatever is left over. I'm not a huge chicken fan, so this says a lot that I love it so much. They make a great wedge salad, and I love the mashed potatoes with the skin on (not on the program). The kids love making their own chicken-and-rice bowls, so I always make a big batch of organic jasmine rice, and they go to town on their own.
Friday, August 18
This morning was a huge rush to get out of the house and on the road for Amagansett, so I used the opportunity to clean out the fridge of all veggies, and made a huge dairy-free pepper-jack scramble with a ton of herbs. We added hot sauce, and I threw the leftover open bag of organic tortilla chips under the broiler, and we had breakfast nachos with all of the last ripe avocados, freshly sliced jalapeño, and what was left of my last red onion.
Our travel day to Amagansett was very long, and we had to make multiple stops on the way out to the house. Lunch was eaten in the car. For the kids, I packed fresh toasted Murray's Bagels with mozzarella and cracked-pepper turkey sandwiches, along with their favorite La Esquina tortilla chips. I try to sneak in fresh veggies whenever I can, and included a chopped veggie mix of cucumbers, carrots, and red peppers, each packed with their own mini–organic Caesar dipping containers.
Kevin and I were so busy, we snacked on sriracha-rice snacks and fruit. We did a giant grocery run in Amagansett, and by 5 p.m., everyone was starving from the trip. For dinner, we grilled skirt steak and local corn and had taco night, per the kids' request. The corn is so good out here in the summer, it doesn't need any seasoning on it, but the kids love a make-your-own-Mexican-corn bar, so I put out crumbled Cotija cheese, organic butter, and Caesar dressing (we prefer this to mayonnaise on our corn), chili powder, and JF Universal Salt. They brushed the corn with their choice of topping and it was gone in seconds. I find when it's a make-your-own style, it's more fun for the kids, and they experiment with more veggies. On the taco bar tonight, I had finely shredded napa cabbage, a fine chop of white onion and cilantro, fresh pico de gallo, chopped avocado, and a choice of favorite hot sauces with shredded Colby-Jack and queso fresco. I also made a fast Mexican white-jasmine rice with white onion, chili powder, some tomatoes, and jalapeños. This is another way to sneak in tomatoes for kids, they dissolve in the rice and give it a great color and flavor.
Saturday, August 19
For our first Hamptons breakfast, I was in the mood for poached eggs post morning yoga. We had leftover Mexican pico, homemade beans, and a ton of avocado. Siete Foods was kind enough to stock my house with my favorite Paleo tortillas, so I made a fast poached huevos rancheros with a cassava-and-chia tortilla. I've tried a ton of GF products and Siete Foods' almond-flour tortilla is my favorite. I made an almond latte and sat out on the deck while I ate my breakfast. We went to town to stock up on fresh cheese from Cavaniola's (get the Bethmale and Abbaye de Belloc, if you only eat sheep and goat cheese), with figs and Inna's Fresno-chili jam. We're having a BBQ on Sunday, so I'm stocking up on all of the essentials. I marinate my own Feta, so I picked up what I needed for that, and baby back ribs.
We dropped the kids with friends and came back to settle in at the house. Lunch was poolside. I made a simple chopped green salad of romaine and arugula, with green onion and a homemade Dijon vinaigrette. It was so warm, I wasn't in the mood for much else.
Dinner was easy. We went to town and picked up fresh shrimp, striped bass, and fresh corn from Balsam Farms, as well as a simple homemade quinoa salad with farm-stand tomatoes and herbs.
Sunday, August 20
We did a very early beach walk with our dog, Tito — we are trying to get him used to the water and it finally worked today! Breakfast was coffee, and by the time we were done, it was time to collect the kids, so breakfast was a wash. For me, skipping a Sunday poached egg never happens, so the Hamptons must be working on distracting me.
Not going to lie, there is something about a full fridge of fresh food that you have personally curated that makes you want to hibernate and not go out to eat, which is exactly what we did.
We went to town to shop and came back with fresh local striped bass from Stuart's for date night. We grilled it simply with lemon, and I made a fast chimichurri with grilled corn and rosé. The chimichurri was amazing on the grilled corn with queso fresco and JF Curry Salt. Clean and fast.
Monday, August 21
Every time I eat fish for dinner, I wake up starving — so I made a big batch of double-poached eggs for myself and Kevin, threw them on top of fresh multicolored heirloom tomatoes from Balsam Farms with a ton of fresh chives, and served them with very toasted (I love almost burnt) GF toast points. We made our coffee and sat on the front deck to enjoy a morning of freedom.
Our friends came out from the city to visit, and we opted to go to Duryea's in Montauk to watch the eclipse. Best decision ever. People were hanging in front playing boccie ball, and inside it was actually very quiet. We went with crab claws, oysters, shrimp, grilled lobster, and the amazing house salad. The fries at Duryea's are my favorite, aside from the Odeon's. They are light and crispy, and you never feel like you ate anything oily after. This could be from the amount of Rock Angel consumed, but whatever. Best lunch ever.
We decided to make grilled fresh Mediterranean chicken burgers for lunch after the kids returned. Chicken burgers may seem boring, but this recipe will change any ground-meat dish of yours forever. We made a huge build-your-own-burger station for the kids. All you need is yellow and red farm-stand tomatoes with a bit of red onion, and you are set.
Tuesday, August 22
For breakfast, everyone requested farm-fried eggs with my JF Curry Salt, fresh avocado, and tomatoes on toast. I always fry my eggs in organic salted butter, drizzle with olive oil, and add a liberal amount of my salt and coarse cracked pepper.
We went back to Montauk for dinner with our friends and kids at the Crow's Nest. I love the roasted beets and the meze platter. The crab tagliatelle is famous there, and I always have to have a couple of bites, but this time, I opted for scallops. We stopped at John's Drive In for ice cream, and I had a chocolate-peanut-butter cone. It made my stomach hurt from the dairy, but it was totally worth it. When we got home, everyone wanted the beef version of my burgers, so we made a fast batch of late-night grass-fed, salt-and-pepper burgers with Martin's potato rolls (I never toast mine). Sipped a late-night Casa Dragones on the rocks, which I chilled and topped with fresh lime.