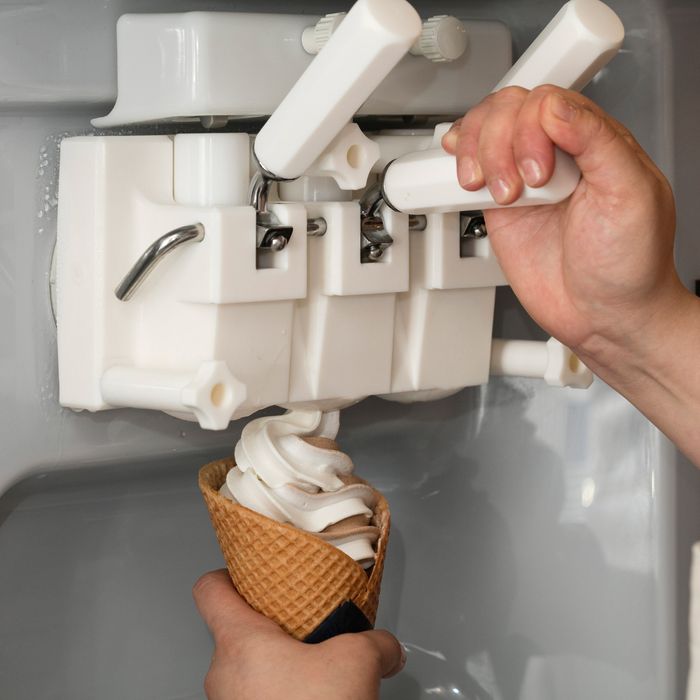 It took a lot of tinkering for Mah-Ze-Dahr to create an all-natural soft-serve recipe.
Photo: Melissa Hom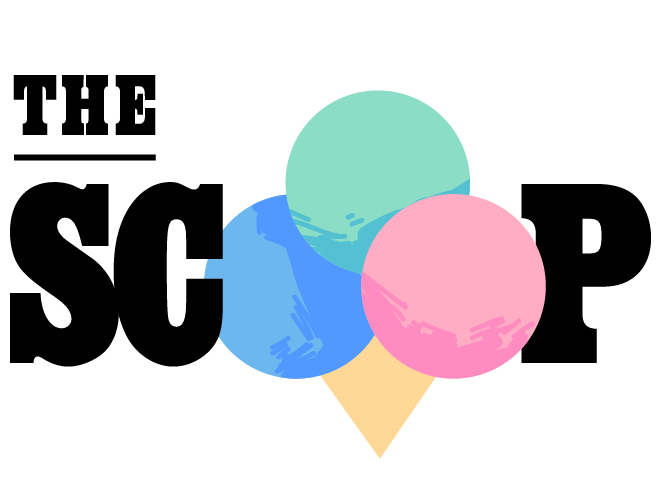 A weeklong series dedicated to exploring everything that's happening in the world of ice cream right now.
Classic, swirly soft serve is no longer confined to the Mister Softee truck; chefs like Dominique Ansel, Daniel Humm, and Greg Baxtrom have embraced it, too. Mah-Ze-Dahr's Umber Ahmad falls into that category — she decided to add vanilla and chocolate soft serve to her West Village bakery's menu to evoke nostalgia for the simple childhood treat. (She says the highest compliment is that her ice cream tastes like a better version of Dairy Queen's.) But Ahmad, who studied genetics at MIT, first had to solve a scientific problem: How do you make delicious soft serve without stabilizers or artificial flavors? Here, she explains how she figured it out.
Soft serve was part of the happiness of my childhood. But the soft serve that I remember, if I go back and eat it today, it doesn't taste very good. It's artificial; it doesn't taste fresh. It doesn't taste like the rest of the foods that we eat now. So what we decided we wanted to do was elevate the soft-serve experience with all-natural ingredients and luxurious techniques.
It's very hard to make soft serve and ice cream or anything frozen with no stabilizers. It really just becomes this balance of art and science, and a big part of it are the ingredients. The amount of fat, the amount of butter, the amount of sugar. When you are trying to make a cookie dough, it changes when it cooks in heat. Similarly, when you make a batter or a mix, it's going to change when it gets frozen, and ice and air are introduced into the mix.
There was a lot of experimentation. There was one explosion, which resulted in chocolate-ice-cream soft-serve base all over the room. And as anyone who has been into the backroom will know, it's entirely white, and it was not before.
We don't use stabilizers, so something that's different from a lot of other ice creams in the city is that our soft serve melts fast. As soon as you get it, you need to start eating it. It really depends on how much you are putting into it, but stabilizers can affect taste. There are natural stabilizers that exist, but there's nothing that's going to leave the taste unaltered. They leave a little bit of a remnant on your tongue. We also try to approach food as naturally as possible.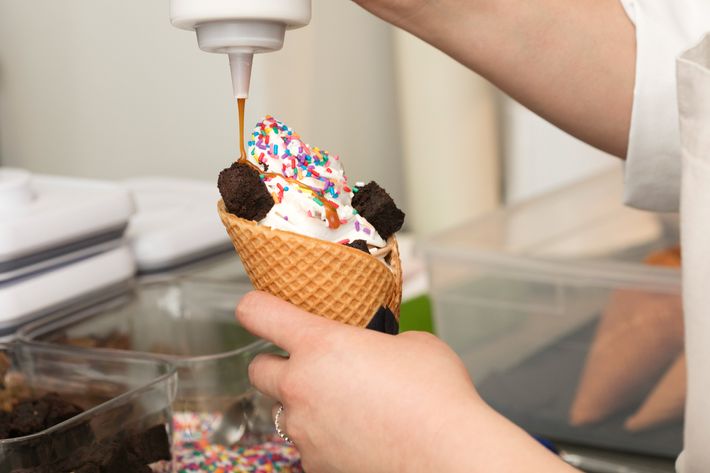 Our bases are made every day, and we refill the base as needed. On a busy Saturday, we can refill the machine 15 times. It's crazy how much we sell every day. There are two types of ice-cream bases: Philly-style does not have eggs, and the regular ice-cream base has eggs. Otherwise, our recipe includes Battenkill milk, heavy cream, sugar, nonfat dried-milk powder, a little bit of salt, and some vanilla or chocolate. From a health standpoint, by necessity of the way that soft serve is mixed and frozen, it has to have less fat than regular ice cream. Regular ice cream has anywhere from 15 to 25 percent butterfat, and soft serve is anywhere from 8 to 12.
We played with the ratios a lot. It becomes a balance of three variables: what goes into the base itself, how much air you are pushing into it, and what the temperature is when you're freezing. You get to the point where you're happy with the taste and the consistency of the base, and you think, I'm just going to play with the technicality of the machine until I'm no longer altering the original taste of it. We use a Carpigiani machine, which people would say is the Rolls-Royce or the Lamborghini of ice-cream machines. There is almost never a used Carpigiani for sale, which I think is very telling of their success, but they also cost the price of a small country to actually own.
Our chocolate is Philly-style, but the vanilla isn't. Part of the reason we started with vanilla bean and dark chocolate is because those are the nostalgic flavors. It's also a really lovely base if you want to add toppings. People will say that it's one of the hardest things for a chef to do is to make roast chicken. In its nakedness, there is perfection, and the same goes with vanilla and chocolate. You can't hide behind a bunch of weird, quirky flavors or colors.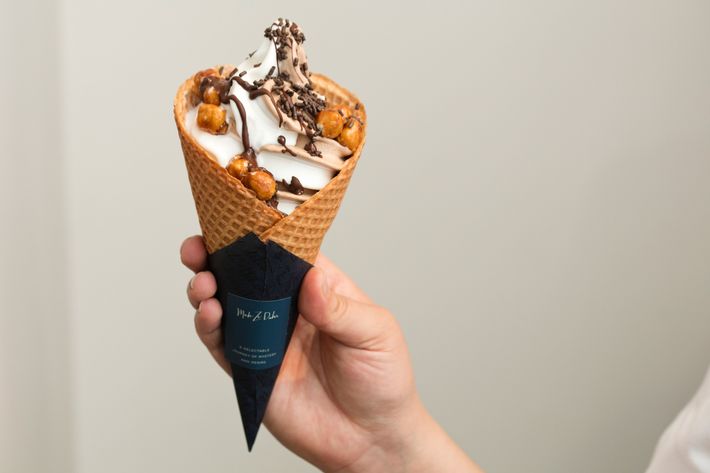 We use Nielsen-Massey Madagascar bourbon vanilla, which is becoming increasingly more difficult now because of the price of vanilla. It has gone up 12-fold in the past 18 months. It has to do with politics in Madagascar, with two consecutive crops not yielding the same amount that they did in the past. We continue to be committed to wanting to use Madagascar vanilla because it has the right flavor profile. We are part of Cercle V with Valrhona, so we are part of the group of chefs around the world who use Valrhona exclusively, and we use their cocoa in our chocolate ice cream.
Cones are often just seen as disposable cups, but we considered the flavor, because the cone with the soft serve and the toppings is a composed dish. We make all of our waffle cones in-house. It has a little bit of honey and a little bit of cinnamon. We make them a little bit wider than normal cones, because we want the cone itself to be a vessel — you can use a spoon and still feel like nothing is going to fall off the side.
The first thing we do is put a housemade magic shell on the inside of the cone. It's chocolate sauce that hardens when it hits ice cream. It prevents dripping on the bottom of the cone. Then we layer the toppings with the soft serve. We use our housemade dark-chocolate brownies, candied hazelnuts, toasted almonds, little mini–vanilla meringues, a caramel sauce, and a dark-chocolate sauce. We also have custom-colored M&M's in our signature colors, and rainbow sprinkles that are a little crunchy, which is great. Oftentimes, these sprinkles get soft, and they're a little bit sad in the ice cream. We did have a sprinkles tasting.
You can get a cup of ice cream with one topping for $5, a housemade cone of ice cream with three toppings for $7, or an affogato, which is a double shot of our Intelligentsia espresso over soft serve, for $5. People will look and say, "That seems expensive," but a part of it is, we use all pure ingredients. This isn't a base that we purchased from a food-production company. We do it in-house.