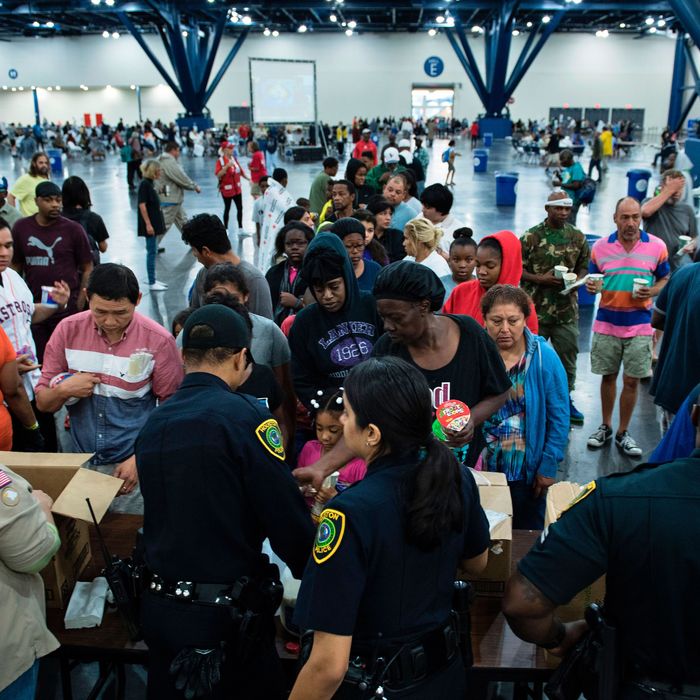 Flood victims receiving food.
Photo: Brendan Smialowski/AFP/Getty Images
In the wake of Houston's catastrophic flooding, emergency responders have asked people to donate their boats to help in rescue missions, and photos show a city whose freeways have been turned to rivers. Tropical Storm Harvey dumped an enormous amount of rain on the city, and more is expected to come, as forecasts say the city could see 50 inches of rainfall before this is all over. That expected accumulation, The New Yorker points out, would be equal to the city's annual rainfall.
According to CNN, early reports say at least 5,500 people are in Houston shelters and another 1,000 are in shelters in neighboring Friendswood. More than 104,000 people are reportedly without electricity, as well. The continued rainfall means those numbers will climb, with more than 30,000 people in Houston and across the Gulf Coast expected to head to temporary shelters. Those people will need food.
Second Servings of Houston, a food rescue organization that picks up excess prepared food and delivers it to nonprofit hunger-relief operations, is one local organization primed to help feed those displaced people. On Friday, according to founder Barbara Bronstein, the agency delivered "over a ton" of food to shelters and soup kitchens in advance of the storm. "We will be rescuing food for the emergency shelters, where food supplies are in big demand due to the huge amount of displaced people," she writes in an email to Grub Street.
Bronstein says Second Servings will be back in business "as soon as the roads are passable," and that it's accepting donations to help fuel its refrigerated truck, as well as renting additional vehicles so they can deliver as much food as possible in the coming weeks.
Restaurants and other local businesses will inevitably step in, too, as helping becomes viable. A representative for Underbelly, one of the city's better-known restaurants, says they're determining the best way to help, and currently, cooking for their neighborhood firehouse, "but there may be more plans coming." Gourmet-market mini-chain Phoenicia Specialty Foods donated prepared foods and other items to the George R. Brown Convention Center, which Houston mayor Sylvester Turner has declared an emergency shelter.
Along with Second Servings, the Houston Food Bank is another local hunger-relief organization accepting donations. The city also has a branch of Rise Against Hunger, an international nonprofit that, among other things, responds to environmental disasters like Harvey. For those who would like to immediately help the city's homeless population, the Coalition for the Homeless suggests donating to partners of the Way Home.